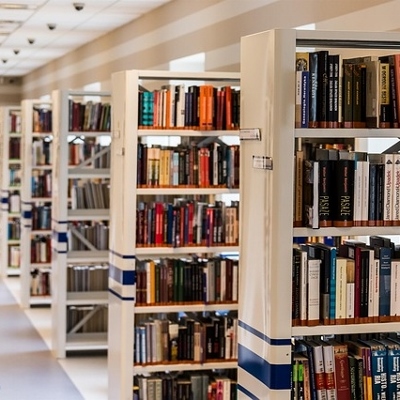 Libraries are great.  I practically live at my local library.  Not only do I volunteer there over the summer, when I have time, I use it quite a lot.  Of course, you can get books at your local library, but there is so much more.  My local library has magazines, newspapers, movies, and more.  Lots of libraries have video games you can rent, too.  And rental periods tend to be very giving; at my library you have movies for a week and books for three, but you can always get a renewal if you aren't finished.
But libraries are so much more than a place to rent stuff.  They are great for getting work done.  Because you have to be quiet in libraries they are perfect for working on an essay or research project.  Plus, they have free computer access most of the time.  If your house tends to be a loud one, or you don't have access to a computer, run down to your local library for a quiet workspace with computer and internet access.
They are also great for group projects.  If you don't want to work at someone's house, can't, or no one has a computer, once again the library is coming to the rescue.  Meet up at your library to work together there.  You will have to keep noise levels on the down low, but some larger libraries have separate rooms for people to work in.  I live in a very small town so my library does not have this option, but many do.
Working at libraries is a very smart idea, not only is it a local meeting ground for group projects, as well as having computers and Wi-Fi, but it has all the resources your need.  From the internet to reference books, the library has what you need.  Not many households keep dictionaries or other reference books, but libraries do.  Plus, they aren't available to rent more often than not, so work at the library so you can have them with you while you work instead of taking notes and then working.
If you are like me and you love your library, ask about getting a job there.  My library has a position called the page, and it is for a local high-schooler.  You may not get the best pay, but it is great for becoming involved in your community.