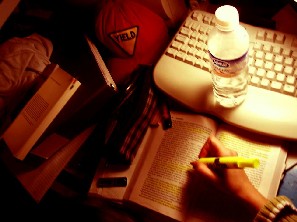 It's 6 p.m., you just got back from football and you have tons of homework to do, but you just don't feel like doing it. Your bedtime is 10 p.m., you still have to eat and shower too.  Time ticks by and suddenly it's 9:30 and that essay that you had to write still isn't done!  You whip one up real quick before you go to bed.  The next day the teacher grades it and gives you a D.  You're normally a straight A-B student and you don't get why you got such a bad grade.  Well, here's the answer.  You kept putting off that essay until the last minute; if you had done it at 6:00 instead of 9:30, you probably could have gotten an A because you would have had more time to work on it.
Everybody hates homework and I'm sure you'd all rather be hanging out with friends than doing homework, but sometimes homework has to come first.  If you are on your high school or middle school team I'm sure you have your sports practice right after school, so you can't do your homework right after school — but you can do it right after you eat dinner and shower, and if you work hard on it, I'm sure you'll still have some time to do what you want.
If you don't do sports through your school, then you most likely don't have them until later at night.  If so, then try to get your homework done right when you get home –  it will be so much easier.  The same if you don't do sports, tell your friend,  "I'll be over in an hour, I have to do my homework first." If you do it then, you won't be killing yourself to finish it before bed.
Also, if you do it right before bed you will be tired and you may not be thinking straight and could get quite a few answers wrong.  But, if you do your homework as soon as you can, you will be more awake, and if you can do it right after school, you will still be fresh with knowledge from just having school 15-20 minutes ago.  So next time you don't have your homework done and Sally Sue wants you to go to the mall with her tell her, "Give me an hour so I can finish my homework", then you can go shop your heart out.