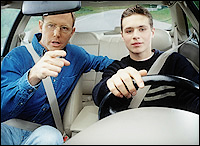 Sixteen is the legal driving age in many states. This is probably one of the biggest periods that parents dread when it comes to their children's lives.
A vehicle is often considered a toy by some, when in reality it is more like a couple thousand pound weapon.
So, how do you teach a teenager to respect the power of an automotive? How do you teach them to understand what exactly can happen if they are not careful while driving?
One of the best ways to start is to make them work for her own car or truck. While in some cases this may seem cruel, it will ensure your teenager understands both the value of money and the value of her car. That means she will be less likely to treat it poorly, especially if she had to spend her hard earned dollars on it.
A way to ensure your teenager understands the dangers of driving is to encourage him to watch one of the many informational drunk driving videos. It is very important to explain to him the same things can happen even when one is not under the influence of alcohol, but is busy texting on a cell phone or listening to loud music, etc.
Rules should be set on reasonable driving times for your teenager. It is much more dangerous for younger and inexperienced drivers to be out late. Obviously there are laws for those few teenagers with driving permits, but permits also require a responsible driver over 21 in the car.
Make sure your teenager respects her vehicle before she hits the roads, and she will be much less likely to get herself in a bad situation.