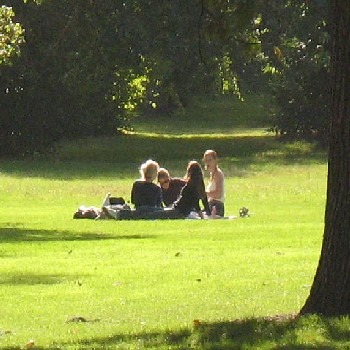 I am beginning the initial stages of applying to St. Paul's Advanced Studies Program, a prestigious academic summer camp open to high school students from New Hampshire during the summer between 11th and 12th grade.  During the initial meeting at my high school, where students with qualifying grade point averages were invited, my friends and I began to discuss whether or not we would apply.  I was amazed at the number of students who told me they were not interested in applying to attend.  As far as I know, I am the only member of my high school who is applying for the camp.  What I found even more impressive was the number of "silly" excuses (in my mind) that I heard.
When it comes to opportunities to improve oneself, I believe that the question one must ask oneself is "Why not?"  With opportunities such as this, there are probably not going to be any more chances within the near future, so you need to list reasons why you should/would not go and then determine if they are valid reasons not to go.  So, I thought I would provide some tips to help you determine the validity of your reasons.
Money.  If the issue is monetary, you should do a lot of research.  Many of these types of opportunities provide financial aid, with some of them being very generous.  For example, I believe the St. Paul's advisor who visited our school said that over 50% of students receive financial aid.  In this case, it is due to the fact that St. Paul's School caters to many wealthy clients, but this is still very helpful.
Work.  I know that some people simply have to work, for various reasons, but generally work is a bad excuse not to attend something that can be used to improve yourself.  Someone I know told me that colleges prefer work experience over advanced learning opportunities and sports, but that is just wrong.  Rare opportunities will always be better.
Friends.  Yeah, I know spending several weeks at an academic summer camp will keep you away from your friends for several weeks.  But c'mon man, unless you are completely socially inept, you should be able to make new friends.  You are at a camp with people who obviously have the same interests as you, so you (absolutely) should be able to make friends.
I want to have fun.  Please, it's just summer.  I don't know about you, but I get bored over summer break.  It's fun, but very boring at the same time.  Also, the vast majority of teens do nothing all summer long.  So why wouldn't you want to do something that interests you, even if it is work intensive, and have a good time with kids your age.  There is nothing interesting about sitting on your couch pounding Mountain Dew and Fritos.
We have a limited amount of time available to take advantage of certain opportunities, so there is no reason to not take them because of some miserable excuses.  Take what you can before it's too late.