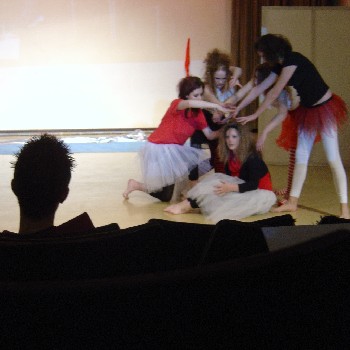 Looking for free or reasonably priced activities that an elementary aged child will enjoy?  I have just the place – local high schools.  From hosting community meals to holding sporting events to putting on musicals and plays, high schools provide seemingly endless opportunities for wholesome family fun. In addition, if a young child goes to enjoyable events at local high schools, he or she will most likely look forward to becoming a ninth grader years later.
Tasty Meals
This weekend, the high school in my neighborhood hosted a pancake breakfast to benefit the local fire department.  This annual fundraiser has been held for over 40 years, and has allowed literally hundreds of youngsters the opportunity to eat in the cafeteria before becoming a high schooler. (I remember attending the same breakfast when I was 12! ) Schools across the U.S., both public and private, host similar events. A child will enjoy the food, while the parent can enjoy a reasonably priced meal that someone else cooked.
Action Packed Sports
Elementary aged children love going to high school sporting events.  By watching older children play football, baseball, soccer, basketball and much more, the child will learn while having a good time.  I remember going to basketball games with my family when I was child, and how much fun it was to root for "our" team.  By taking an elementary aged child to these events, he or she will not only have fun, but he or she will also learn about sportsmanship and teamwork. Remember to dress in the school's colors!
Music! Music! Music!
Children also love all types of music. You can find plenty of quality musical events at the high school level to suit all tastes. There are orchestras, jazz bands, pep bands, choirs, swing choirs, and a capella singing groups. Usually admission to concerts is free, and the performances can be inspiring.  Watch for spring concerts to be announced soon.
Drama/Comedy
Today I attended a series of one act plays portraying fairy tales at my daughter's high school.  The director aimed the show at children and he included extensive audience participation, including a dance contest.  Those elementary aged children in the audience giggled with delight at the dancing, and they loved the antics of the high schoolers, especially the "big bad wolf."  Check out the drama department of your local high school to see if they have events planned especially for young children.
From these few examples, it is apparent that high schools provide much family entertainment.  Taking advantage of these activities can keep a child happy and occupied, while at the same time not costing the parent much money.  So, if you haven't taken your elementary student to high school yet, I encourage you to give it a try.