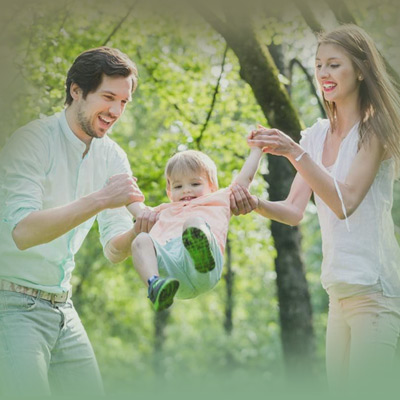 Add some mystery to the next walk you take with your toddler. Your little detective will have fun discovering colors and shapes in nature.
A day before your walk, talk about color families. Put out crayons from a box of 24 to 48 colors and let your child pick a crayon. Discuss whether the crayon belongs to the blue, red, or yellow families. To future break the families into "cousins" you can create orange, brown, and black families. As your toddler looks at cornflower blue and/or melon crayons, you can mention that nature has a variety of colors like these to explore.
So now, your young detective can be in search of members of these color families on your walk. Take crayons with you, one from each primary family (and later secondary colors). Challenge your tot to find members of each color family in the nature you see while walking.
Children will quickly find greens and browns. Point out some of the less obvious greens or browns, such as moss on trees, or small acorns or seeds beneath the leaves. Next, looks for buds and flowers of vibrant colors on trees and bushes.
Sometimes, human presence will provide colors and the chance for more discussion. For example, a discarded soda can might be the red or blue you are looking for. It also can be a way for you to talk to your child about litter and how it can harm the environment. Try singing a clean-up tune to express how people must clean up the cans and papers from the grass and walkways.
Don't forget to look up through the trees to see azure blue skies or puffy white clouds. The sky is a beautiful place. You may even see colorful birds in flight or a silver grey jet flying by.
As your walk comes near the end, check to see whether you found at least one color from each family. If you walk near a parking lot, the colors of cars may fill the bill. A brilliant garden will work, too. Another day, take a shape walk. Make a circle, square, rectangle, and triangle from cardboard. Punch holes in each shape and string them on a piece of yarn to wear as a necklace. On this next walk look for objects that match the shapes.
Walks are endless ways of learning. You can also go on listening walks to discover sounds of nature and the community. Why not try a smell walk, too? Look for smells of flowers or, if you are in town, smell some goodies from the nearest bakery.
Summer walks are definitely fun and a tool for learning with young children.