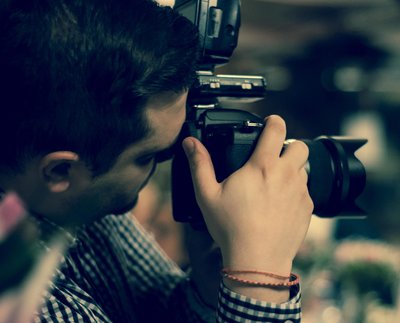 How can taking a walk around the neighborhood become a special event? The secret is to take along a camera! It doesn't have to be an expensive one – it can be a simple digital, a disposable, and the Polaroid is coming back. The use of a camera will help you and your child to create a "photo story." This activity is a personal and excellent teaching tool because the characters are real people. Kids and cameras can really go together creating a day of fun.
In order to do some of the activities that follow:
You will need to take photos and either print or develop them.
Select specific pictures to tell the day's story.
Arrange the photos and write words to go with each one.
Actually put the photos and the words into booklet form.
Photo stories may involve only your immediate family, friends, and pets. Sometimes it is fun to include other community members. For example, on the way to the park, you may meet the mail carrier, a hotdog vendor, or a police officer. Ask to take their pictures while explaining your goals for this project. Most people, charmed by children, love to stop and pose. These photos invite your children to discuss each of these neighbors and their importance to the community. Encourage your child to write down descriptions of the photos. Challenge their recall skills by asking them to tell you the order and the details of the events.
Make a Photo Booklet
An easy and inexpensive way to create an album for your photo story is to glue, staple or tape photos to the four sides inside of a file folder. If two folders (or eight pages) are needed, put the folders one on top of the other and sew them together along the fold with a sewing machine or punch holes and thread a pretty ribbon through all the holes and tie off securely. To protect the photos and extend the life of this album, cover the pages with clear adhesive paper.
Another album can be made using a ring binder, construction paper, and plastic sheet protectors that can be purchased at an office supply store. Glue or tape your photos onto the construction paper and add your descriptions. Place each page into a protective sleeve and add each page to the ring binder. This is an excellent book to use for adding additional stories — there is plenty of room to grow.
Going on walks and creating photo stories together is a fascinating hobby and a great way to spend quality time with your kids. Think about taking nature walks during different seasons, or create a photo story with your pet, and of course learning about the people in your neighborhood that we spoke of above. Every special event and milestone is a reason to take pictures and journal a photo story — these memories become treasures!