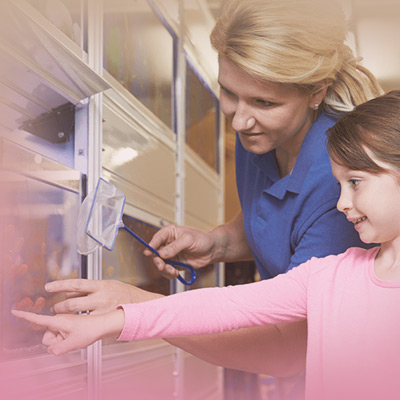 During the summer preschoolers love to accompany their parents, grandparents, or sitters on errands. Think about all the teachable moments that accompany a trip to the bank, veterinarian, grocery store, and such. Everyday places provide entertainment and learning. Then, on weekends you and your family may go on an extended day trip to special places that will increase your little learner's understanding of the world and his/her place in it. Here are a few day trips your child may enjoy.
Animal Hospitals, Shelters and Stores:
Children love animals and it's time to discuss where a pet goes to stay well just like we do. Explain that an animal doctor is called a veterinarian. Pets get vaccines, just like people to avoid diseases and the veterinarian may give your cat or dog medications when sick.
Where do you go to get a pet? Some animals do not have homes so they live in a shelter with hopes to get adopted. Take your preschooler to an animal shelter to see all the cats and dogs that live there.
Some pet stores also have animals for adoption and more of a variety than a shelter. They sell fish, birds, and turtles. A pet store also provides food, toys, and clothing that pets will need.
Grocery Stores and More:
It's time to discuss the different people who work in a grocery store – the stock person, cashier, bagger, butcher, produce manager, deli helper, and more. Talk about the basic food groups. Name the items on your list and see if you preschooler can match the food group it belongs.
Sometimes the market will have a floral department and bakery. Discuss the job of a florist. Look at the different flowers and compare the texture, smell, and color of different flowers. Next comes the bakery and its workers. Look at the display and talk about the variety of baked goods. Compare the items, how are they the same or different. Use a lot of sensory vocabulary in each department.
On weekends you may want to take your child to a special place for fun and learning. Here is a list of places to visit this summer.
Aquarium – Go to see all the water animals and plants. Compare the sizes and colors of fish.
Planetarium – Your family can watch presentations about stars and the night sky. Check out the large telescopes to view what's up above.
Aviary or bird sanctuary – Invite your kiddos to observe all types of birds in realistic environments.
Theater – Many community theaters offer programs for young children. This gives them exposure to the theater with acting and singing.
Museums – A children's museum has a variety of exhibits and hands-on activities to explore. If you visit a natural history museum, your child may see mounted animals along with displays of life in past times.
And don't overlook the zoo. It provides so many learning experiences with different animal families.
Check out your local area for events and venues that may interest your child. You will have fun and learn new things at the same time.