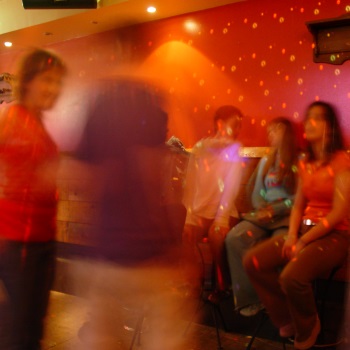 Sweaty palms. Â Wildly beating heart. Churning stomach. Â Tongue tied in painful knots. Imagine experiencing all these feelings while still trying to look cool and to fit in. Â This scenario happens for hundred of thousands of tweens each year all across America. Â What is this stress producing event? Â The first middle school dance.
Most people remember their first dance while in middle school. Â Some will smile with delight from the memory of this special night, yet others still cringe at what was experienced there. Â In any case, all can agree that a first school dance has extreme significance in a tween's life. It can even be thought of as an important initiation rite.
As a parent of a tween, you can assist your child in having a successful first dance experience. Â From knowing how to make small talk, to feeling confident enough to tackle some dance moves, tweens benefit from loving instruction from a caring adult — especially one who can remember his or her own middle school dances.
A great first step involves reducing your child's stress level.  Assure him or her that dances should be fun, and that worrying about it will only reduce the potential for having a good time.  Focus your student's attention on things  he can control.  Doing so eases stress levels.
Once a child quits thinking about worst case scenarios, he or she can move on to thinking about positives instead. Â First, he or she should be able to make small talk with fellow students. Â Remind a child that the things that people talk about at dances are much the same as during school. Â The only difference: music blares in the background. Hence, there is no need for thinking of clever things to say!
The next step is teaching a tween that a large part of being successful at a dance involves merely looking confident.  One should walk  into the dance without hesitation, and with a smile, not with the head held low and with a frown on the face.  And if one is talked to, he doesn't have to say a lot, but he should answer with a steady voice and a smile.
Finally, address the actual act of dancing. Does your child know how to slow dance? Â If not, teach him or her. Feel free to put on some music and make a fool of yourself! Â Your child may laugh, but she will learn that dancing doesn't have to be perfect, only fun.
You should also role play how to ask another person to dance AND how to refuse someone politely. Â The key to success involves respect both for oneself and for others.
Middle school dances have the potential for making great memories or for causing undue stress. Â Help your tween begin her experience with these important social events positively. Â Discuss concrete ways to reduce stress, build her confidence, practice dancing, and role play respectful ways to ask for or refuse a dance partner. Doing these steps will ensure successful school dances for your tween.