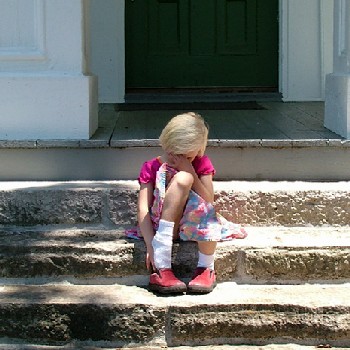 Anxious.  Crabby.  Crying spells.  Mysterious aches and pains.These behaviors may signal stress in a child.  Just like adults, children can become overwhelmed with life, including meeting expectations and deadlines.  When I was a child, life was much less structured.  Sure I had sports and clubs, yet my life wasn't scheduled down to the minute.  When not at school, I had time to roam the pine forest next to my neighborhood, I could walk to my friend's house to swim, and I could ride my  bike for hours on end.  Today, many parents may overbook a child, not to be mean, but to prepare their son or daughter for the competitive road ahead; however, if a child ends up being stressed, then the schedule must be reworked.
Signs of Stress
The signs of stress in a child can vary.  Look for changes in patterns of behavior.  For instance, if an outgoing child suddenly becomes fearful, something may be wrong.  Also, a child may regress in his or her way of acting.  This means that they  may quit doing a task already mastered, or act younger.  Sometimes, stress may mimic depression.  As outlined on Livestrong.com, "Some young children withdraw from family, friends and even fun activities while experiencing stress. They may prefer to be alone, refuse to talk about their feelings and no longer seem to have an interest in things they used to enjoy. This withdrawal might cause declining attendance or performance at school or their extracurricular activities."
Removal of the Problem
If possible, one should determine what is causing a child to be stressed. If a child can't keep up with all the classes, sporting clubs, and other activities expected of him, then he may give up on everything.  Determining that his time is too structured is easy to fix.  Just cut back on obligations.  A great way to do this is to discuss what he likes the most.  Is it tap class?  Is it Boy Scouts?  Make mental notes about the classes he doesn't mention as well.  These might be the ones you may consider dropping, at least for the time being. So, if you love to watch him play baseball, but he hates it, then do him a favor and delete it from his schedule!
Tips on Stress Relief
Completely removing stress from a child's life is not always possible, and it's probably also not a good idea.  Let me explain.  A person's life naturally involves stress, so learning to COPE remains a skill all must learn. Discuss ways to "feel better" concerning stress with a child.  Use some or all of the following strategies to teach coping skills.
Make sure a child has adequate sleep.
Make sure a child exercises each day.  It is not healthy for him or her to be a couch potato.
Engage in a fun activity with the child on a regular basis so she has something to look forward to.
Plan the child's schedule with enough time in between activities to avoid pressure and urgency.
Foster positive communication.