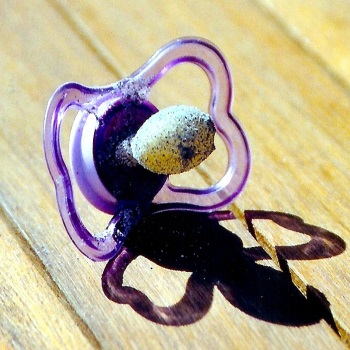 I read your article on getting toddlers to give up the pacifier and wondered, wouldn't it be better just not to let them have one to begin with? Besides being a shortcut to keeping the child quiet, are they really any use at all?
We've actually seen many benefits from using pacifiers. When a baby is colicky or just upset, they want oral soothing, the first kind they remember. In the middle of the night, a pacifier can be a big help not only to the baby but to the whole family. Also, if  they want to suck on something, the pacifier is easier to give up eventually than the thumb.
But remember to use it with caution. It's fine when a child really needs soothing, but don't let them get into the habit of using it while they play or go about their day. And they should give it up by about age three.
Some children just don't want a pacifier (like the daughter of one of us). In that case, of course it shouldn't be pushed on them.
(Editor's note: Read more about pacifier pros and cons — including a possible link to SIDS prevention — here.)
The information on this site is not intended to replace personal consultation. Please consult a professional in matters involving your child's health and safety. The author and publishers will not be held liable.