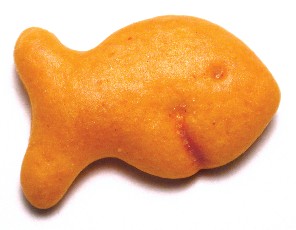 Snacks are a part of attending preschool. Unfortunately, it is up to the parents to provide the snacks. It is sometimes very hard to know what to bring. After all, there might be allergies to avoid and some children don't like certain things. It makes the choices for snack items that much more difficult. If you aren't certain exactly what to bring, try these snack suggestions.
Goldfish crackers are practically known as the default preschool snack. While not the most imaginative snack option, they are favored by many preschools. This is because most kids like them and they are very easy to dispense. They also aren't too messy to clean up.
For a healthy snack option, cut up some apples, bananas, and grapes. If you have time, take the peels off of the apples. These are the most familiar fruit options for preschoolers. Avoid bringing in strange fruit like raspberries, because not all preschoolers will be familiar with the taste and are unlikely to eat it. Fruit does go bad fast, so it has to be prepared that morning.
Crackers and cheese are also an easy snack option for preschoolers. USe the standard yellow American cheese that most preschoolers are familiar with. Avoid any cheese with holes, or blue cheese. These cheeses are a little too complicated for a preschooler's taste buds.
Graham crackers are another option. These crackers are easy to break apart into smaller pieces. Most kids are fans of graham crackers. Bring the chocolate and marshmallows for that familiar campfire feel. You don't have to toast the marshmallows for this treat.
Cupcakes are a favorite birthday preschool snack. Cupcakes are easier to dispense than trying to cut up a cake. But you want to bring both chocolate and vanilla cupcakes to give kids a choice. Not every preschooler will be a big fan of chocolate.
Animal crackers are now available in individual packages. This is another preschool favorite for the same basic reasons as Goldfish crackers. They tend to be a little easier on the snack budget. They also fit very well into animal themed days at the Preschool.
Preschool snacks don't have to be complicated. For preschoolers, the simple snacks are some of the best ones to eat.