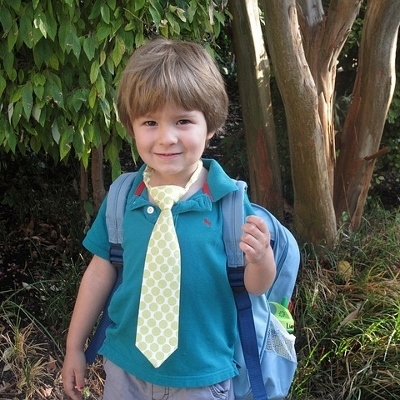 Whether you are getting your preschoolers ready for school, daycare, or just up for an outing, mornings can be a stressful time. It's important to establish a morning routine and stick to it to keep things from getting out of control at the beginning of the day. With three kids, my only sanity was to become organized. I kept a chalkboard, calendar and bulletin board in the kitchen with areas to write our activities for each and every day. Plan ahead and follow these tips to keep things running smoothly and send the kids on their merry way happy and ready to learn or play.
Get up 15 to 20 minutes before your kids. This is your "me" time so you can enjoy a cup of coffee or tea before the family comes storming in. Think about a short period of meditation that can make you feel refreshed. If your mood is good, your children's will be great too!
Prepare a morning checklist. Younger children may need a written reminder (or picture card) to wash their face, brush their teeth, put on shoes or any other daily task. Limit these notes to only those that must be done in the morning. Planning what to wear, signing papers, packing lunches, putting away books or other household objects should be done before bed. You can even do some breakfast preparation in the evening, like cutting up fresh fruit for breakfast and setting the table for the morning meal.
Set up an "out-the-door" area. This is the place where you place the kids' backpacks, equipment for after-school activities, papers to take to school or books that need returned to the library. Think about baskets or bins for each child or hooks for outerwear and a shelf above for the child's belongings. Keeping these items at the door makes for an easy and quick get-away.
Use a family calendar to stay on task. Purchase one of those large section monthly calendars to write in all family events, play dates, and appointments. A dry-erase board would work well and can be used over and over.
Hang a family bulletin board on the wall. This is the place to display the children's artwork, photographs, important papers and essential messages.
Enforce a no computer or television rule. There is no time in the morning for entertainment until all necessary tasks are completed. If there is time, then these electronic devices can come on as a reward for getting up early, following the morning routines and ready to go, no matter what the morning plans are – school or outing.
Serve a healthy breakfast. I'm not saying you must slave cooking pancakes, eggs and bacon everyday, but a nourishing breakfast is a must. For the quickest breakfast, a fruit smoothie with protein powder gets you out the door in a jiffy. But, cereal or quick-cooking oatmeal with fresh fruit or a square of egg quiche that you prepared in advance will give your preschoolers the nutrients they need to start their day.