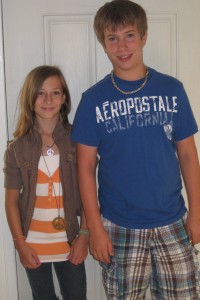 It happens to every set of siblings.  Even in the closest of families, kids fight.  They bicker, they pick at each other.  The only sure way to avoid sibling rivalry is to raise an only child.  But since that may be a less than ideal suggestion, there are steps that you can take to minimize the infighting and maximize the family harmony.
#1 – Roomie up!
The experts call it co-habitaiton.  Kids who share a room will tend to be closer to one another.  Even if you've got the space, turn one of the rooms into a den or a playroom and move the beds into one room.  Depending on the ages and dispositions of the children, it may start off rocky, but soon they'll find that they wouldn't have it any other way.
#2 – Separate but Equal
Children need to feel special.  It's hard for little Johnny to feel like his guitar solo is as impressive if big Joey already did it two years ago… and now can play a much harder song.  If the older child plays guitar, try to steer the younger to piano.  Or football and baseball.  It doesn't matter what extra-curricular they choose, as long as you give them your full support and attention.
One important caveat here is that you can't force your children into an activity.  Or out of one, either.  If little Johnny wants to play guitar more than anything in the world, then let him do it and deal with the fallout as a family.
#3 – Make Time for Each and All
It is important to make time for each child individually.  It is also important to make time for all of the children together.  By giving them a good mixture of individual (Each) time and group (All) time, you can go a long way toward ensuring that your children will feel important and appreciated while also enjoying being a part of the larger group.  When those dynamics are in balance, the rivalries between the siblings will be held to a minimum.