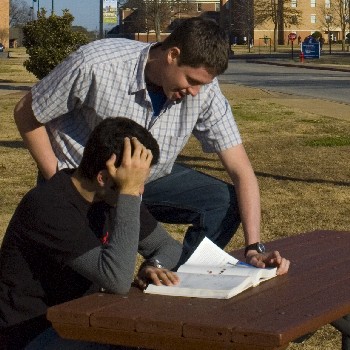 A complaint that I hear often from middle school teachers: lack of parental involvement. †For some reason, parents who have previously taken an active role in their child's education tend to back off once a child reaches middle school and the tween years. †The reasons vary from parent to parent; however, a tween needs his or her parent to be a partner in education during these transitional years and beyond. †The crux of my argument lies in the fact that an involved parent encourages a child to achieve success in school.
Hands On, Not Hands Off
Parents volunteer and act as an integral part of a student's school life from preschool to approximately 4th or 5th grade. †I remember rooms filled to the brim during parent meetings and even competing for spots as chaperone for school trips when my kids were younger, yet as my children and their peers entered middle school, most of the hands on parents I knew became hands off. †Why? I wondered. †Maybe these parents felt that they had "done their job," or that they assumed teachers in middle school didn't want their involvement, but whatever the reason, being hands off only works against the child.
Case for Involvement
An involved parent of a middle schooler will enhance the child's experience. †One may argue that he or she works full-time and doesn't have time to help, but I worked over 50 hours/week when my children were tweens, and I still had time to be an educational advocate. †Still not convinced? †Maybe information from the NYU Child Study Center will convince you! †In 2010 they asserted that, "parents' active involvement with their child's education at home and in school brings great rewards and has a significant impact on their children's lives. According to research studies, the children of involved parents:
are absent less frequently
behave better
do better academically from pre-school through high school
go farther in school
go to better schools
How to Become Involved
Some parents may be at a loss for how to be involved in a tween's school life. †The good thing is that there are dozens of ways to do so, from voting in school board elections, to being a library volunteer. †I have compiled a list of other ways to become involved below:
1. †Assist with the clubs your child is involved in.
2. Volunteer to chaperone school dances.
3. †Attend parent/teacher conferences and open houses.
4. †Email your child's teacher to introduce yourself.
5. Become involved in the school's parent/teacher organization or sports booster club.
6. Find out what the school needs in terms of paper goods and donate a small supply.
7. If writing is your forte, assist the school with writing press releases and/or mini-grants.
8. †Contact the principal to see if he or she needs a volunteer to help with a project a few hours a month.
9. Consider donating bushes, plants, or a tree to the school for Earth Day.
10. Make a vow to say in front of your child, "school is important, so I am going to help in any way I can!"