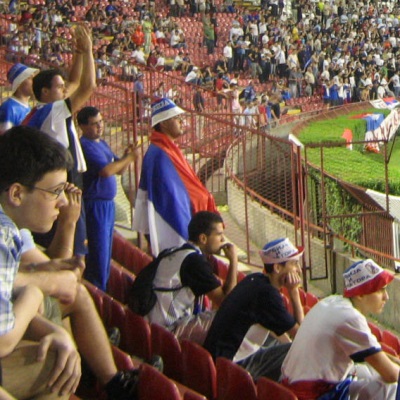 As a soon to be graduating high school senior, I have a list of things that I wish I had more readily taken advantage of during high school.  While there is a great variety of things on said list, one of the biggest ones is having been more social during high school.
As an underclassman, I rarely attended school events, such as games, unless I was playing in them.  In hindsight, this was fairly dumb of me, because events like basketball games are the social center of my high school.  Although it is a fairly small school (400 kids, total), we can get turnouts of up to 100 kids at a big time game, such as a basketball playoff game.  Similarly, even our school plays attract a large audience.  Being a small town with nothing to do, things like that are often the biggest social events in town.  Thus, they are the social center and can be talk of the school for a week.
With all of that said, going to such events as an underclassman can be intimidating.  It always felt awkward to have your parents drop you off, walk into a large, loud crowd of students, and enjoy the game.  If you are shy, the upperclassmen may seem downright scary.  The popular upperclassmen do tend to be the loudest and most obvious group in the crowd.  However, it is pretty easy to find a group to sit with in the crowd.  There always seems to be at least one member of your social group who is there, even if they are with other people.
Now, let's say on the off chance that you don't actually find a friend in the crowd.  Well, there is no better time to find a new one!  This may sound stupid or challenging, but let's be real.  It's high school.  Join the crowd and get into cheering on your team.  You pretty much can't go wrong.
With that said, there are some things you must keep in mind.  First, show up in the right colors!  Otherwise, you will be ostracized.  Two, if you don't understand the sport, don't cheer the wrong things.  Third, forget sportsmanship and do not clap for your opponents (I know that is wrong, but you're in the high school fan section — the heckling area).
High school social events are one of the biggest pieces of high school – don't miss them.  They will be more important than you may think!