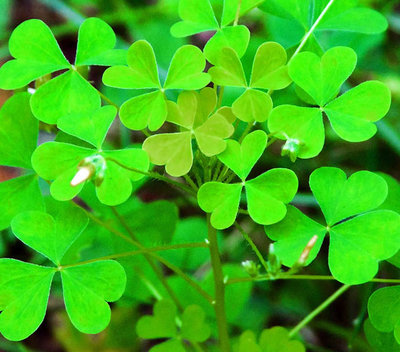 Greet your students with "Top of the Morning" this St. Patrick's Day, March 17th. Preschoolers absorb information about holidays when engaging in projects throughout the curriculum. Here are a few activities to stimulate interest on this special green day.
Begin by discussing what this holiday represents (or as much as you can with kids this age). Saint Patrick was the patron saint of Ireland. He brought Christianity to the Irish people through his teachings in Ireland. He died on March 17, 461 A.D. and the anniversary of his death is known as St. Patrick's Day. Today, the Irish, as well as many Americans, celebrate this holiday with parades, parties, wearing of green, Irish songs and special dances called jigs.
There are symbols associated with St. Patrick's Day, so this activity is sure to contribute knowledge to your little learners as you play. Begin by placing several green toys and symbolic objects in a large bag. Include holiday items such as a plastic shamrock, rainbow sticker, and a Leprechaun figurine to the bag. Have the children sit with you in a circle and start telling a St. Patrick's Day story about a Leprechaun and his adventures. Then, let the kiddos take turns removing objects from the bag and holding them up as they incorporate these green items along with the symbols into the story. Continue until all the objects in the bag have been used.
It is legend that Leprechauns would hide a pot of gold at the end of the rainbow. In class, make a "pot of gold" by covering a coffee can with black construction paper and filling it with gold coins (small circles from yellow poster board). Choose one child to be the Leprechaun and give him/her the black pot. Invite another child to play by chanting, "Leprechaun, will you give me some gold?" The Leprechaun replies, "Yes, I will when a number is told." Have the child roll a die and name the number that comes up. Then, have the Leprechaun gives the player that number of gold pieces. Continue playing by switching roles between the children to become the new Leprechaun. This is a great math game fostering counting skills.
Create simple shamrock puzzles with index cards and stickers. Number the left-hand sides of five index cards from 1 to 5. Attach corresponding shamrock stickers to the right side. Cut the index cards into two puzzle pieces. Shuffle the cards and invite the preschooler to find the match-ups.
Throughout class time, play Irish songs for kids on recordings or from YouTube. Two of my favorites: GREEN Saint Patrick's Song and Rainbow Song by The Kiboomers. End the day with some green snacks such as Leprechaun surprise pudding (vanilla pudding cups with a drop of green food coloring), shamrock ham and cheese sandwiches (cut with shamrock cookie cutters, and green shakes (vanilla ice cream, milk, and a drop of green coloring).
With these activities at preschool your little munchkins will come home dancing a jig and with new vocabulary and knowledge of this traditional holiday in March.