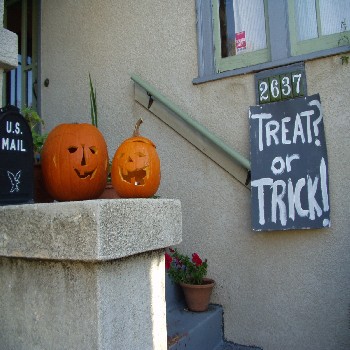 If going door to door trick-or-treating with your preschooler is absolutely not an option, then there are much safer options. Your preschooler can still experience the fun without the worries attached. But since Halloween actually falls on a Wednesday this year, you will need to plan a little ahead in order to find out when these safer events are happening. You can search your city's website for dates, times and locations for some events.
One safer event that is growing in popularity is the Trunk or Treat option. The event is usually held in a parking lot with decorated cars. The car trunks are decorated with different themes. Everything is out in the open air.
Malls usually cater to costumed preschoolers. To find out if and when your local mall is giving out the treats, you need to call ahead of time. Not all businesses are going to hand out treats. Additionally, local businesses may give out candy when visiting them on Halloween.
Some businesses hold a fair as an alternative to going door to door. Depending on the fair, your preschooler can participate in a variety of activities and still collect candy. Costs for attending the fair vary depending on who is sponsoring the event. It can also be fun for you as well.
Local churches will sometimes hold alternative parties to trick or treating. Usually, they have a variety of games geared especially toward preschoolers. Your child can have some fun while still getting prizes. Call ahead for more information about dates and times.
You don't have to go door to door in order for your preschooler to experience Halloween. A quick search can lead you to many of the safe places you go for some Halloween fun. Most events that cater to preschoolers do end early so you will need to plan ahead especially if you plan on attending more than one event. The most important thing for preschoolers is to have fun rather than add to the candy count.