I can remember that when I was really little, I loved to shovel. (I doubt any of us can say that truthfully now.) When my parents went out to shovel, I'd follow them, mimicking the loads of snow they would carry, consequently falling under the weight. Shoveling can be dangerous for everyone, but especially for young kids. KidsHealth.org states that "young children should not be shoveling." Young children can try to lift loads that might strain their muscles, and they often don't know when they've been outside for too long.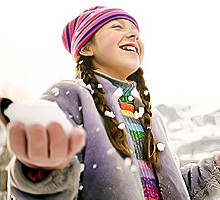 Playing in the snow is great for kids but should not go without precaution. Before letting your children go outside, you should give them a snack so they have a little extra energy to handle the cold weather. You'll also want to apply sunscreen to their faces. Yes, sunscreen. Snow reflects a great amount of the sun's rays and prolonged exposure will cause sunburn, even in the winter. The only part of the body that should be exposed is the face. A child should be covered head to toe: hat, jackets, mittens, snowpants, socks, boots, and many layers underneath. Cotton clothes are not as warm as wool, and spending the extra buck on better materials like waterproof jackets and snow pants is worth it. Keeping the snow and wetness on the outside is the easiest way to keep a child warm on the inside.
It is always best to supervise your children, but if you don't physically want to be in the snow, then you must periodically check on your children. Make sure their gloves/mittens are dry; have an extra pair ready. Check cheeks and noses for normal color: a little red is okay, but watch its progression; white is a sign of frostbite, your child will need to go to the hospital.
When you return to the house, have your children quickly change into dry, warm clothes. Then, have something warm to eat or drink to rejuvenate the body; soup and hot chocolate are usually winners.