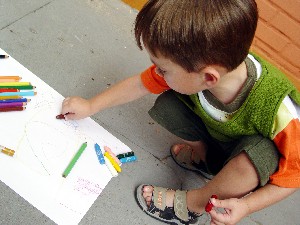 Your child's preschool teaches colors, numbers and letters. But the time they spend teaching your child these important school-ready concepts is much shorter than most parents think. This is because there are also other lessons that your preschool has to incorporate †that take up valuable time, such as arranging bathroom times and playtime. While they may be effective at introducing the concepts, your toddler may not be able to completely grasp them without a little practice time at home. So, as parents, it is important to follow up some of the lessons to keep your child on track for kindergarten.
Following up on lessons doesn't have to add to your budget. There are things you can do at home with the stuff you already have. For example, for the letter of the week, have your child gather all his or her toys that start with that particular letter. You may have to help a little on the names of some of the toys.
Another thing you can do is to print out coloring sheets online. There are many places online where you can get free printable coloring pages. To save on paper, print those pages out on the back of paper that has been colored on one side, or paperwork that you don't need. Just check the paper first to make sure it isn't something important.
You can also take a walk outside and play a game of "I Spot" where they pick out items with the letter of the week. If you have a difficult letter such as W or V, instead set up a game of hide and seek. Hide pieces of paper with the letter on it and have your child search for the letter. Once they know that letter well, mix in other letters so that it is a bit more difficult.
You can use some of these same basic techniques with colors and number recognition. Just substitute the subject you are trying to reinforce.
These are just a few ideas to help your preschooler grasp the concepts that they need when they head toward kindergarten. Reinforcing the preschool lessons are important for ensuring that your preschooler can understand the material and retain it for future use.