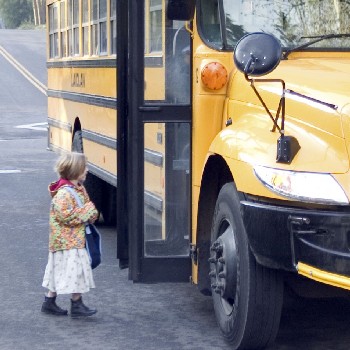 Preschool is a scary time for your little one. Riding the bus is certainly a new experience. Sometimes, new experiences bring excitement. Sometimes, they bring trepidation. While traveling on the bus might be exciting to your preschooler, it is completely normal for parents to have some hesitation about putting them on the school bus by themselves. So, there are a couple of things that you can do to relieve your mind and provide a more positive experience for your preschooler.
Talk to the preschool and ask them about the procedures for loading, unloading, and directing your preschooler to the right classroom. It is important that you know how the whole system works. At the very least, it will alleviate your mind about who is responsible for your preschooler from the moment that they get on the bus to the moment that they are handed off to you.
It is also a good idea to try and meet the bus driver beforehand. This way you know who is driving the bus. Although, you may not find out until the first day of pickup.
Make sure that you put the adults you choose to pick up your child at the bus stop on the bus list. You will need to inform your babysitters, grandparents, uncles, and aunts that they will need to have an ID with them. Bus drivers will check to make certain that they are authorized to pick up your preschooler. It is imperative that they are on the list, otherwise your preschooler will be headed back to the school until an authorized individual picks them up. This is part of the safety procedures implemented for buses.
If their bus has multiple grade levels, ask for them to sit in the front seats. Some districts will do this automatically. This way it is easier for the bus driver and helpers to keep an eye on them. Also inquire about assigned seats. It is also easier for them to remember when they are supposed to get off the bus.
Encourage your preschooler to talk about their experience on the bus. Problems should be addressed right away before they get out of hand.
The bus can be intimidating for both you and your preschooler. But there are ways to make riding the bus a little less stressful for them and a little less worrisome for you.