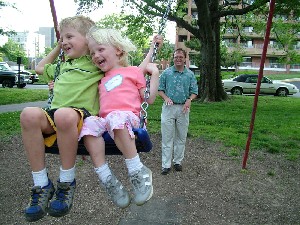 Schools are taking a much more practical approach to teaching life skills than they used to. Elementary school students are being exposed to concepts like budgeting as well as specific skills like writing a check. As parents, we need to piggyback on these school assignments to reinforce these lessons.
Adding one more item to our teaching moment agenda might seem like one too many. Every moment with my kids is a teaching moment. There is always some lesson to be learned whether we're tossing the football, watching TV, or eating dinner. But sometimes, we just need to have fun.
Wrestling matches on the bed, watching a family-friendly movie, just snuggling close at bed time on a cold night. These moments can be all about the joy of being a family. There's a balance there — we don't want to miss any teaching moments but we've got to let kids be kids.
I don't want my children to look back on their childhood and only think of me as the guy who taught them to throw a ball and use a computer and play poker and balance a checkbook. I want them to remember me as the dad who loved them so much that I told them so and hugged them every day, as the dad who played Teen Titans and Pokemon cards and watched Phineas and Ferb.
The key is knowing when to stress the teaching, when to teach & play, and when to just forget everything else and have fun. All three have their place in parenting. All three will pay dividends down the road.