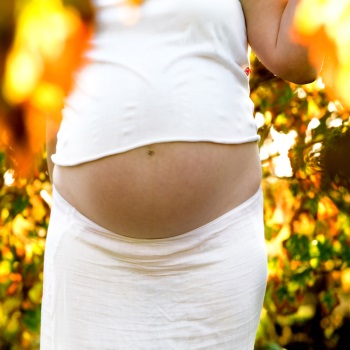 Pregnant women need to plan for a lot of serious things, but everyone needs a break once in awhile. So this week, let's look at how a mom-to-be can plan for something fun: Halloween. Not the future ones when the baby is old enough to go trick-or-treating, but your Halloween, this year.
Erma Bombeck once wrote about a friend of hers who went into premature labor at a Halloween party and had to go to the hospital dressed as a nun. I tend to doubt this is based on a true story because, especially if it was her first baby, the woman would've had plenty of time to go home and change. (Even a second labor takes eight hours on average.) I once spent Halloween in the maternity ward myself, though luckily for me, I'd managed to give birth the day before and not set my son up for a lifetime of ghoulish birthdays.
You may not feel like putting on a costume, whether it's to go to a party or hand out treats at home. Or maybe you'd like to dress up but think there's nothing out there that would fit you. Either way, just Google "maternity Halloween costume" and you may feel different after seeing all the choices you have.
First, there are maternity versions of several popular costumes, so you can still be a nurse, devil, fairy princess, or chef. There's also a "bun in the oven" costume that turns your upper body into a stove. If you're still just not that into it, you can pick up a maternity T-shirt with a Halloween theme — CafePress has plenty, from cute ("No, I did not steal a pumpkin") to creepy ("Let me out!" over two little handprints, and then there's the baby skeleton shirt).
If you have the creativity for it, and especially if you live in a warm climate, you can even try decorating your stomach — painting it to look like the earth, an Easter egg (a little holiday fusion there), a watermelon, or, obviously, a pumpkin. For more ideas, see here. To choose safe body paint, read these guidelines.
And yes, there's the nun option. If, against all the odds, you end up wearing it to the hospital, just be sure to take off the veil first.
(Photo: Hagit Berkovich)