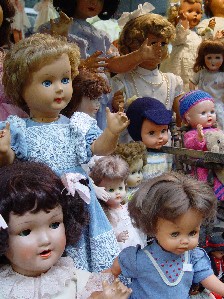 A dollhouse is a usually one of the dreams a little girl has when it comes to toys. After all, their dolls need a place to live, play and dream. Because in a little girl's imagination those dolls are real. So, it makes sense to them to have a place they can live. The Play Wonder Dollhouse certainly fulfills this desire.
The Dollhouse does require assembly. It comes in slats of already decorated wood. Along with the slats comes the screws and a screwdriver. It also comes with a few pieces of furniture to get your child started. It also contains two curtains which allows the dollhouse to be closed off when it is not in use. The slats are a little heavy and it may require two people for assembly, one to hold the pieces in place and the other to fit the screws. But because the pieces are so large, they are easy to keep track of and assembly time isn't that long.
Once put together, the Play Wonder Dollhouse is very solid. It can stand up to a little girl's playtime and also stand up to most little boys. It is also taller than it is wider so it will fit in places that an open-up dollhouse will not. It is also the right size for little girls.
The rooms are accommodating enough to fit smaller scale dolls. However, they aren't big enough for full-sized barbies to stand up in. But for a nap or with a knee bend, the barbies can fit inside. You can also purchase additional furniture and dolls that go with the dollhouse.
The one gripe is that the staircase sticks out and falls off fairly easily. It is one piece of plastic so reattaching it is not a problem. But the staircase will have to be detached if you want to completely close the curtains.
The style and coloring of the house works with most little girl's rooms. It is pink and white and has very clean lines. It is a piece that can be displayed easily. It also is sturdy enough so that it can be passed on when it is outgrown.
Overall, the Play Wonder Dollhouse is stylistic and strong. It is easily passed on to other children. However, it is on the expensive side as far as dollhouses go coming in around about a $100. The staircase is a little annoying. But it is certainly something that little girls will love to have.