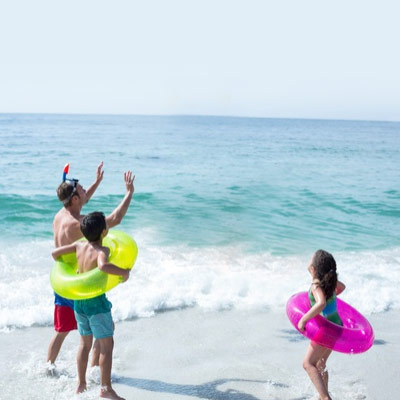 These days everywhere you turn there is some body of water – whether it's a pool, beach, or lake. Drowning is a major cause of death in children, especially during the summer months. Does your child know how to swim? This should be on the top of your parenting "to-do" list, and hopefully by the time your child is elementary age he/she has mastered this skill. Don't ever depend on floats, kickboards, or water wings to keep kids safe. It's not too late for lessons. Just do it!
Since I live in Florida, my children were participating in swimming lessons from infancy. You can't be too careful when you are surrounded by water. We have pools right outside our family room door, canals in our back yards, and beaches close by. But with pools come safety rules to enforce. Here are a few tips to remember.
Supervision
The key to water safety is constant supervision. Even when you are in a public place with a lifeguard on duty, parents need to be attuned to what their children are doing in the water. And, never leave your children unattended. We have heard of tragedies that occur when the adult was gone for "only a moment." Even with the rules, make sure your youngsters understand there is to be no horseplay around water. At this age they still need constant supervision and guidance.
Be Prepared
The best tool to stay safe in any type of water is to learn how to swim, but always have an action plan in case of emergency. Keep a life preserver and cell phone close to the pool (or any body of water where you swim). Someone within the vicinity of your swimming area should know CPR. If you need to learn, check with the American Red Cross, local hospitals or the fire department to find out about class times and certification in your area.
Fence It In
If you are lucky to have a backyard pool, the best safety feature is to surround the body of water with a fence that locks and automatically closes. Even though your youngsters are older and can comprehend instructions – do they always listen? We are building a pool at our new home and are required to have the pool enclosed with screen or fenced. Since I have grandchildren of all ages, I'm also installing a baby pool fence, so even the little ones cannot enter the pool. It will be like Fort Knox, but better safe than sorry!
Be Careful About Diving
These days home pools are built for easy recreation and are not deep enough for diving. Best to leave this part of swimming to the commercial pools, like at the YMCA or schools. At home, don't let any child persuade you that they know how to do a racing dive (a shallow dive) in your pool. A neck injury (which could be fatal) is not something anyone wants to experience.
When it comes to pools – be smart, be safe and have fun!