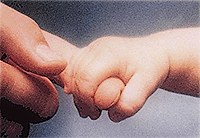 On the eve of my son's birth, our doctor told us that it would help a lot if I would take my wife for a 15 minute walk. The plan was to deliver the baby the natural way. The baby was due within 24 hours and a short  walk would help my wife a lot during the delivery. So, we got out of the clinic and went for a little stroll. The night air was cold on our cheeks and above us the clear sky was spangled with stars. The clinic was located in the nightlife district of our city, so the street we walked on was lined with bars whose music and colored lights spilled on us.  We had walked those streets many many times before, many many nights before, when we were "just friends" who loved walking together because we had so many things to talk about and our walks were the best times to really talk. We held each other's hand while we walked in silence, feeling the city as it breathed, feeling the joy of impending parenthood filling us up slowly.
The coming of the baby gave a new color to our world; everything we did  revolved around the baby. During the first few days I was afraid to hold the baby because he looked so small and fragile, and I feared that I might make a mistake in handling him. But the days roll so fast and now our son is already four years old, he has grown into a strong little boy full of life and color.  My wife and I are still in the trial and error mode in handling him, but every day that comes builds our confidence.
I do not think that there is perfect parenting, and no book on parenting has the key to perfect parenting. Every child is a different story, so every child that comes to parents is a wonder, a challenge, a source of excitement, and a source of fulfillment.