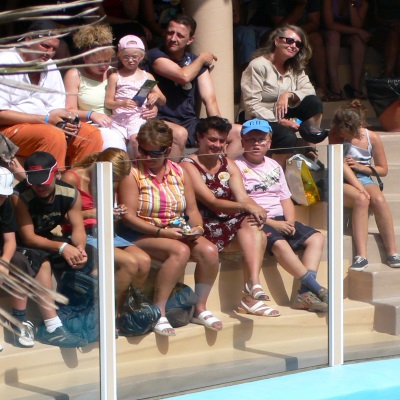 Over the past 100 years, expectations of a child have changed dramatically.  Long ago, children needed to entertain themselves for hours at time with simple items, such as jacks or a jump rope.  Now they demand to be entertained with TV, computers, and hand held games.  In addition, children in the "old days" tended to be seen, but not heard, in places such as church and at grandma's house.
In essence, parents (and society) used to teach children how to be patient, whereas youngsters today tend to lack this important skill.  I'm not advocating for forced compliance, but I do think that young children need to be taught that patience is a virtue.
We all know that life is full of waiting.  We wait for big events: to graduate from high school, to give birth to our child, and to receive a job promotion.  We also wait for less important things:  a meal at a restaurant, a turn at bat, or even a sunny day!  For these many tasks, inner patience is key to surviving and thriving.
Young children need to be taught the valuable skill of patience in order to deal with he endless waiting they will encounter each and every day.  Doing so will allow a child to fully experience the feeling of anticipation, and it will also teach a child that good things come to those who wait.
But with the whirlwind of events and activities elementary school children experience, not to mention all the technological devices they have access to, how do parents help children to learn patience?
First, one must model slowed and relaxed behavior for his or her child.  If you become irritated while waiting in line at the bank, or you constantly complain that the service could be faster at restaurants you frequent, then you are inadvertently teaching your child to be impatient as well.
Instead, take a deep breath.  Relax in the moment.  Take time to savor the added time you have to do something else while you wait.  Engage in conversation with your child, and show that having to wait a reasonable amount of time is no big deal.
Next, tackle activities together that lend themselves to fostering patience. For example, growing a vegetable garden together has many benefits.  The child will see by visual example that plants need care (and plenty of time) to grow, but when they do, the results can be magnificent (and tasty)!
Finally, try not to rush your child's growing up years.  Resist the temptation to sign your son or daughter up for countless lessons and clubs.  Opt instead for having plenty of down time.  When a child feels able to explore a new activity or skill without being timed, he will begin to see that patience leads to greater understanding and mastery.
Learning the skill of patience will certainly benefit an elementary age child.  Instead of blurting out things without thinking, and instead of always being antsy, she will be able to respond thoughtfully and in a calm manner.