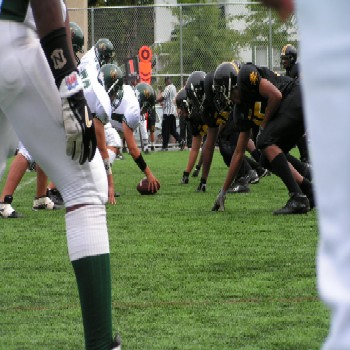 Yesterday, the football gloves I ordered online arrived at my house.  I'm pretty excited that they got here, because my hands get destroyed during football season and I couldn't find the gloves I needed in any of the local stores (I play offensive and defensive line, so I needed padded gloves).  At the same time, it's the only piece of non-NHIAA mandated padding I wear.  The rest of the protective gear I wear is school provided, because I don't feel that it is necessary to wear all the padding that some athletes wear now.  I feel that, in many cases, young athletes today are provided with too much padding and high end equipment that is completely unnecessary.
There are two major reasons why I feel that excessive gear is silly: it can be very expensive and you don't learn how to take a hit.  I see it all the time at football, like when kids show up with padded shirts underneath their shoulder pads, visors, or $150 cleats.  Most of the time, this stuff is a waste of money.  I'm sorry to point it out, but your child presumably does not need $150 cleats because they're 9.8 ounces, or whatever.  More than likely, the cleats won't make enough of a difference to matter.  Also, cleats get destroyed easily, so why waste the money on them?
Visors and excessive pads are just as wasteful.  Any time a player has needed extra padding or a visor due to his position, my coaches have been more than happy to supply the gear.  It's kind of like buying receiver gloves for your child, who is a linemen.  Yes, they will help your kid catch passes.  But it's illegal to pass to an offensive lineman in high school football, so that kind of nullifies the point, now doesn't it?
Remember how I said it stifles your ability to learn how to take a hit?  Well, it does do that.  The more pads you're wearing, the riskier you will play.  If I didn't have a helmet on at football, I would never use my head during a hit.  On the other hand, wearing a helmet makes me more likely to do that.  One of my best friends "plays better with arm pads on."  Well, he doesn't.  He just won't play as hard without them, because he thinks he will get hurt.
I'm not saying I have a problem with protective gear for athletes (especially football players).  I'm just trying to point out the fact that sometimes we go a bit overboard on the athlete protection.