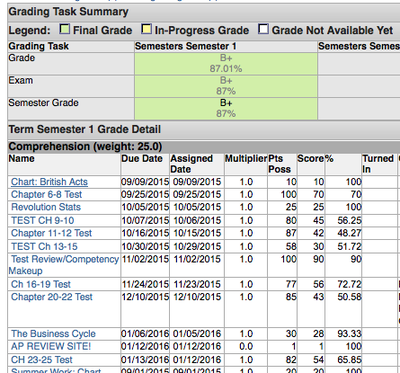 Most public school systems in America utilize online grading systems for their students. These software tools allow teachers to keep track of grades and give parents and students the ability to view grades before progress reports or report cards are issued. These grading systems most definitely are helpful to all.
The way that the grading systems are managed may vary from district to district. Some schools have grades uploaded to the system at a set point in time. For example, a school district may have all grades for a two-week period added to the grading system every other Friday. Other districts allow their teachers to add grades (and share them with parents) as soon as they are entered. Each method has its benefits.
With grades available for viewing, it is a handy way for parents to keep track of assignment completion, project scores, and in-class assignment grades. For the most part, the students should already be aware of their scores. Parents should use the online grading systems as a tool, not just as a source of information. When new grades are added, they can be used in a multitude of ways.
Good grades– When there is an update and your child has done well on a project, be sure to congratulate him on his work. Too often we forget to congratulate effort and only complain when something isn't well done.
Missing assignments– As a tween, it is most definitely time to hold your child accountable. Ask if the assignment was done, and if it was, where is it currently located. Leave the onus on your child to submit the work, not you. Feel free to give your child a pass on the first missed assignment (we all make mistakes), but if it becomes a more than once occurrence, consequences need to follow. Obviously, the assignment needs to be submitted the next day the child attends school.
Incomplete assignments– If there is a missing assignment in the grade report and it hasn't been completed, then consequences are immediate, first time or not. Your child needs to complete this work and submit it before privileges are returned.
Poor grades– Talk to your child about the grade and the class in which she earned a bad grade. Remember, the teacher didn't "give" the grade, your child's work produced it. See if she is understanding the subject or not, and then, again, put the onus on her. If she doesn't understand the topic, she needs to speak with her teacher about extra practice or tutoring. She should find out what she can do to become a better student in this subject.
Online grading systems really are useful tools. However, they also need to be used to teach your child to be self-reliant. Mom or Dad shouldn't be emailing the teacher to complain about or question a grade. You should be empowering your child to advocate for himself. It's a skill that will benefit him for years to come.