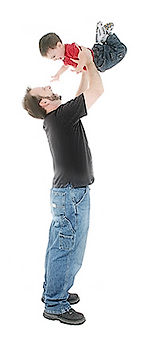 I am now in my fourth year of being a dad, and I have learned some things that I would like to share with other dads who are just starting out . I am far from being the veteran dad with all the parenting wisdom; four years is too short a time to learn everything there is to learn about parenthood. But the little things I've learned would be useful to those who are groping in the dark, so here they are :
1. Parenting made me see things within me that I did not see before. It made me know myself deeper. The deeper I get into parenthood, the deeper I know myself.
2. Parenting is not exactly like what you read in "parenting" books. Every child is unique, every family is one-of-a-kind; you have to weave what you read with what your instinct tells you to come up with the best fabric on which to paint the unique story of your child.
3. Parenting problems are opportunities for learning. Parenthood would not be complete without the hurdles that need to be faced by a parent everyday.
4. Actions speak louder than words. A child learns more from what he sees  than from what he hears, so it pays to learn how to master one's actions. The key to mastering one's actions is in the mastery of oneself.
5. A good parent must know how to take good care of himself and stay fit. A sick parent would not be able to give good loving.
6. It pays to have a vision of what we want our child to be in the future, but it doesn't mean to say that we need to stick with that vision no matter what happens along the way. Time and growing up have a tricky way of changing directions, so be ready to adjust and change the shape of your child's future according to what your child wants.
7. Every minute you are with your child is an opportunity to show him how much you love him. I can not tell you how it's done, each of us has his  own way of expressing it, just follow your instinct.