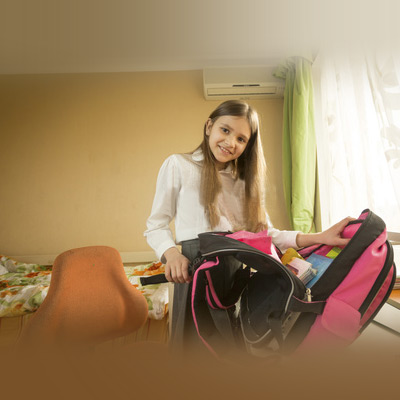 We beg of you, please tell us that there's a morning routine for your elementary aged child. If you haven't created one and your mornings are chaotic and prone to emotional outbursts, it's time to create a routine. More than likely you've heard that children thrive on a schedule. It's true.
As we noted in our article on routines for toddlers and preschoolers, the best way to start your morning routine is with a set bedtime. By kindergarten, your child is quite aware that parents and older siblings get to stay up later. However, awareness is not a reason to extend bedtime, at least on school nights. Good night's sleep = happier child
Next, does your child own an alarm clock? If not, go and buy one today. Then teach your child how to use it. A digital clock is handy because it will be read more easily by younger children. You may be thinking, It's easy for me to wake Sally. It's true, but it's also good to start to allow her to be responsible for getting up in the morning.
Just like adults, not all kids like morning. Base the wakeup time on that. If your child springs out of bed happily, maybe the alarm time is when you expect him to be out of bed and ready for the first task of the day. If your child is a bit grumpy, maybe set the alarm and let your child know he needs to be ready for the first task 10 minutes after the alarm. He can use that time to read or think about the day.
Once out of bed, it's time to get stuff done! You know the particulars: eat, groom, get dressed. In addition by this age your child should be responsible for a few school-prep tasks, such as packing her backpack. Make a simple chart with the days of the week and the events that occur each day: gym class, show & tell, etc. This will give your child the reminders she needs when packing her bag.
If lunch or snack needs to be packed, that can be a child's task also. If possible, pack the lunch the night before and leave it in the refrigerator. For snacks, create a shelf in the pantry or refrigerator with suitable snacks, so all that he has to do is grab an apple and crackers, instead of digging through an overwhelming amount of snacks.
During the early elementary years, definitely review what is packed in the backpack. Make sure that all necessary items are included. As your child matures and nears the end of elementary school, it can be good to back away from this. Let your child do the double checking as she heads out the door.
Mornings don't have to be hectic. Create a routine, follow it faithfully on schooldays, and you're on your way to happier mornings for all.