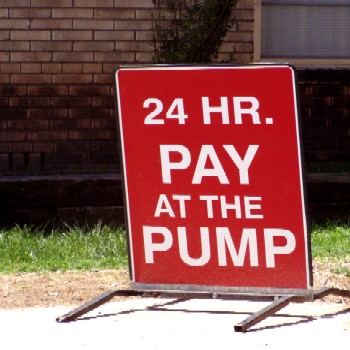 As I have said before, I am a saver. I rarely spend money, prefering to put it away for later.  When I do spend, I will mentally debate it for quite a while and even research what I am buying.  "Cheap" is an accurate descriptor of me.  Now that I have a car, I am finding it much harder to save, though.  Although I am not hemorrhaging money by any standards, I am still speeding more than I want to.  So, I though I would provide some money management tips for driving teens.
Bring water with you when you leave.  Water is expensive at gas stations and convenience stores, so it is easier and cheaper to bring a bottle.  Also, this will keep you from consuming unnecessary calories, by preventing you from being tempted by soda.
If you have a credit or debit card, avoid using it. I have a debit card, but I rarely use it.  Rather, I have it because I also have a savings account that is linked to it.  I have found that it is easier to spend a lot of money with a card, because you don't actually have to hand over the physical money.  Cash helps physically demonstrate how much money you are giving up.
Don't drive around aimlessly.  As much fun as driving around with friends is, it also is a major waste of money.  If you drive around for an hour or two with no purpose, you inherently are wasting gas.  As we all know gas is expensive, so this is essentially a waste of money.
Take every insurance benefit you can get.  For my insurance, I have good student discounts, as well as the Steer Clear program discounts.  I had to complete a packet and watch a video to get the Steer Clear discount, but it gave me 15% off.  Combined with the 20% for good grades, they helped a lot. Every little thing helps, so do everything you can. Also, it is an extra incentive to not crash or break laws, because those will drive your insurance right up.
As a teenager, it gets a lot harder to save money once you are driving.  Hopefully, these tips will help you as much as they helped me.