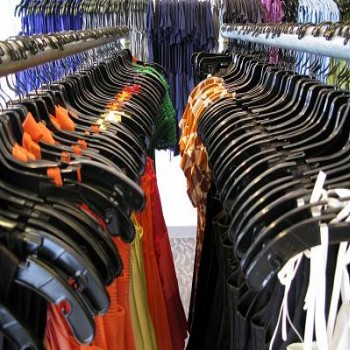 Parents can get back-to-school shopping done with the kids along — and it can be an exciting learning experience for them with these tips.
The mall or department store is a special place for anyone with its sights, sounds, and smells. There are several things to do with children before, during, and after the shopping trip to make it more worthwhile for both parent and child.
Just before leaving for the mall, talk with your children about what they will be doing.  What type products are you looking for? Clothing? School supplies? It's best to take an inventory of your needs before planning the shopping trip. Why not take a day to clean out drawers and the closet and plan to donate clothing that no longer fits to the needy.  Work on a shopping budget so the kiddos know the family's limits and see how many necessities can be purchased within these parameters. Who knows? There may be a little extra cash for a trendy piece!
While wandering through each department or each small store in a mall, discuss the noises, colors, smells (especially in the bakery or cosmetic departments), and textures of things. Pick up free samples so they can be examined at home and let the children participate in any taste or smell tests offered. Shopping excursions are terrific opportunities to help children develop their senses and vocabulary.
While shopping at the mall, ask your child his/her opinion on things. "Which sweater do you like the best?" Don't forget to ask why she prefers one thing to another. Besides making her feel very grown up and boosting her self-esteem, these questions help her develop important thinking skills. Let the child be responsible for one purchase. Have her pick out the item, take it to the salesperson, and pay for it. Isn't this task an ego booster?
Shop 'Till You Drop Game
Kids love a challenge when visiting the mall. Play this "shop 'til you drop" game which is like a basic scavenger hunt where a list of things is found within a specified amount of time (but the kids don't actually collect them, they list them). Each child will need a tablet and pencil to write down the name of the store where each item is found. This shopping list gives ideas to plan this scavenger hunt, but it has lots of room for variations and creativity. Here are a few ideas:
Something "Itsy Bitsy Teeny Weeny"
Something people wear "under"
Something that makes music
Something that smells like coconut
Something dated with the year
Something with a Disney character
Where to find a Teenage Mutant Ninja Turtle?
After the shopping trip is over, spend some relaxing time at home with a fun project. Recycle the trip into a collage. Have the kids use parts of boxes, labels, bags, tissue paper, tags, and ribbon to create a permanent record of this trip. Glue these pieces of memorabilia onto a large sheet of construction paper or poster board.
Back to school shopping doesn't have to be hard and trying, just use some imagination and make shopping days fun and exciting. Kids may even learn something along the way!