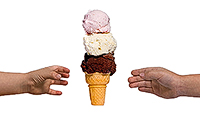 The ability to share does not come innately to every child. To some children the act of sharing can be a big challenge. Sharing is a very important skill that can be learned from parents. You can help your child learn to share by creating as many opportunities for him to learn to play with others successfully.
My three year old son's playmates often come to our house to play with him. I learned that one way to help avoid having fights is to have enough toys for everyone. My wife also sets up play activities that don't depend on one toy. Play activities that involve lots of props that can be split among the children are very helpful. For example, we bought three sets of crayons, so that my son and his two playmates will never fight over one color of crayon when they have drawing activities. Having more than one of the same kind of toy car or truck also proves to be helpful in avoiding quarrels.
But the best way to teach our children sharing is not through having enough of everything for everyone but through the examples that we set. If we make a point of talking about and demonstrating sharing during our regular routines, our children will understand and learn sharing. If there is only one sandwich left, offer to split it with someone. To show our children that it is important to consider others, always use words like "please" and "thank you". Almost every situation in our daily routine with our children can be transformed into an opportunity to show the importance of considering others and the beauty of sharing.
When fights with another child do happen, let your child understand his and his playmate's feelings. Things as complex as putting one's self in someone else's shoes can be grasped by children as young as three or four, if we only know how to simplify it. If you help your child understand that when one little boy takes a toy from another little boy it is because he wants the toy for himself and not because he wants to hurt the feelings of the other boy, it will help.