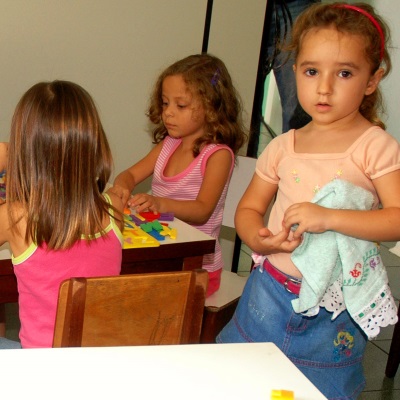 Montessori preschools are extremely popular in my urban community. The rooms are brightly coloured, clean and have gorgeous furniture. What is the Montessori Method? Is it appropriate for your child?
Maria Montessori (1870 – 1952) was an Italian physician and educator best known for her educational philosophy, which is used in schools around the world. For five years Montessori worked with children who were disabled either physically, mentally or due to illness. She started advocating for special classes and institutions for the disabled and trained teachers to help the mentally handicapped. Montessori's methods were so successful that some children deemed "uneducable" went on to pass exams set up for normal children.
Montessori was interested in trying her methods with typical children. In 1907 the first "Children's House" was opened with an enrollment of about 50 pupils ages two to six who lived in a low-income housing area. Activities included personal care (dressing, undressing and hand washing), care of the environment (dusting, sweeping and flower arranging) and care for the garden. Gymnastics, care of pets and cooking were also included.
Furniture was child-sized and lightweight so a child could easily rearrange things. Materials suitable for children were kept at child height. The classrooms had large open spaces where children were allowed to come and go as they chose. Montessori believed children learned best by working independently with minimal interference from adults. She stressed that each child should be treated as an individual and that the goal of education was to promote independence.
The first school was so successful that another one opened a few months later. The popularity of the educational philosophy spread to many countries including Canada and the United States. Montessori did not participate in the day to day workings of the centers but she was involved in training the teachers.
After 100 years, there have been a few changes to how Montessori preschools are run, but to be a member of the Association Montessori Internationale (AMI) and the American Montessori Society (AMS), there are a few principles that should be in place. Firstly, they need to have mixed classrooms with children ages 2 ½ to 6. Secondly, there should be uninterrupted blocks of work time, preferably three hours. Also, children should be allowed to learn concepts from working with materials rather than being taught directly. It is important to have the specialized educational materials developed by Montessori and her colleagues. Children should be free to move around the classroom and there should always be a trained Montessori teacher leading the class.
Practical life exercises are instilled to help a child learn to care for oneself, others and the environment. Washing dishes, folding clothes and maintaining order are encouraged with children learning to work at a task from start to finish. To help learn more about their environment, the children are taught geography, science, music and art as extensions of sensory and language activities.
Before enrolling your child, meet the teachers and check that all licensing requirements are up to date. Ensure that you and your child will be happy in this preschool program. Have fun!