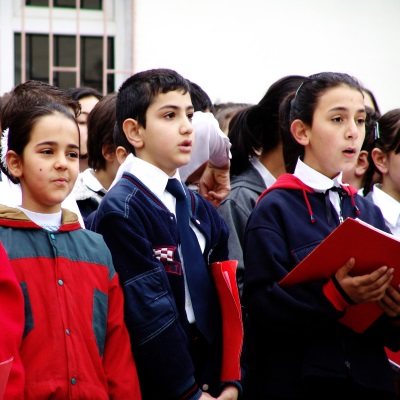 So your Tween is in a public middle school and that's okay, but what if she wants to pursue a special interest like the fine arts or a math/science curriculum? Can your public school accommodate this type program? Did you know you may have options in your area? Have you looked into charter and magnet schools? Here is the 411 on these schools to consider.
Magnet Schools
A magnet school is a free public school, but one that focuses on a specialized curriculum. All students living in a school district may apply to a magnet program, even if they live outside the attendance boundary of that particular school. The main philosophy of magnets is that students learn differently and, by offering specialized programs geared to a child's interest, they should learn better. Magnet schools have students of many ethnic backgrounds and diversity; however, they are more balanced than their public school counterparts. These schools came into being during the late 1960's and early 1970's as a tool to further academic desegregation. The schools were to attract students from a variety of school zones, hence the name "magnet" came into play.
Magnet schools are still required to take statewide assessment tests and the same curricula must be taught along with special interests. They still remain part of the public school system. Parents are expected to be involved in the school. Many require contracts of commitment and encourage plenty of volunteer efforts. Even though these schools sound like utopia for some kids, there are some downfalls that aren't so appealing to Tweens. Some students have to travel a long distance to reach the school of their choice and some find it difficult to maintain friendships because of the school distance from their home neighborhoods.
Charter Schools
Charter schools are independent public schools that are created by parents, municipalities, nonprofit organizations and others that operate pursuant to a charter or contract with the local school district. Even thought they are public schools, they are free from some of the traditional regulations and this freedom allows them to deliver programs that are innovative and tailored to community needs. They can set their own rules on curriculum, teaching style, and discipline.
Charter schools are open to all students but when space is limited, they may use a lottery system for selection. They must comply with their contract, but some lack the infrastructure that public schools have like gyms, libraries, etc. On the other hand, charter schools can offer longer school days with extra tutorial help, adjust the curriculum to meet a child's needs, and create a school environment that also focuses on the arts, college preparation, career readiness, and use of many technological advances.
Questions to ask your Tween:
Are you interested in a different curriculum or specialized training than you already have?
How do you feel about traveling outside your neighborhood for school daily?
Do you care about a diverse ethnic student body?
As a parent you have the right to check into these options. Research, visit, and make an informed decision with your Tween.