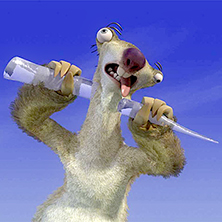 Has Hollywood lost its collective mind? I keep lowering my expectations, and they keep slithering underneath. I'm already irritated by the early reports that Transformers 2 contains some sexuality that just isn't appropriate for the audience that should be going to see the film (like my 8 year old. How cool are cars that turn into giant robots when you're 8?). But at least that carries a PG-13, so it's kind of buyer beware there.
The thing that's got me worked up today is Ice Age 3. Have you seen the previews for this movie? In two 30 second commercials, they managed to squeeze in two penis references and some really inappropriate sexual innuendo. I can't imagine what the whole film is like.
In case you haven't seen the commercials, they feature the familiar stars of the first two movies. In one ad, the sloth mistakes the baby mammoth's tail for an enormous penis. In the other, two male characters argue about a "tingly feeling" one gets when in physical contact with the other. Let the hilarity ensue.
I'm not super-prude dad or anything. Really, I'm not. But what is wrong with the people in Hollywood that they think this is OK to show kids? Little children like Ice Age. This isn't for teens, or even tweens. This is, at least this should be, for the 4-10 year old crowd.
Ice Age was a great family film. I enjoyed it as an adult, and my kids loved it. We have the two-disc special edition. I've seen it at least a dozen times with my sons. Never once in the entire film did the sloth resort to a penis joke for laughs.
I thought the second Ice Age film was OK. There were a few things that just didn't need to be in there. The scene where one of the beasties exclaims "Damn!" as a dam bursts leaps to mind. That sort of thing just doesn't have to be there. The kids don't need to be taught about curse words in children's movies. I send them to public school for that.