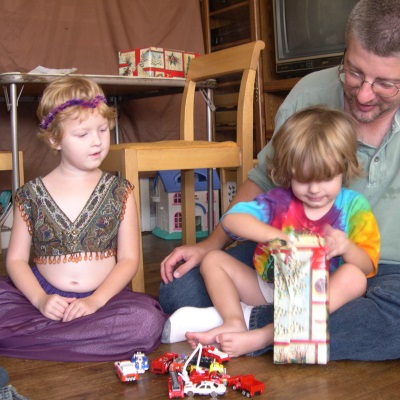 Birthday parties for children aged two through five can be lots of fun with a bit of planning. Young children do well with inviting only a few children and keeping things simple. What kinds of activities are suitable for different age groups? Do caregivers need to stay at the party? How much should the party cost?
Deciding how much money you are prepared to spend on your child's birthday party is the first step to a successful celebration. How much can your family afford to spend? In your budgeting, include the cost of invitations, decorations, cake, beverages, and goodie bags. This party is about your child, not keeping up with the Joneses.
Choose a theme. This helps you stay focused when deciding how to organize invitations, cakes and activities. Some easy themes are: bugs, princess, age of child, and teddy bear picnic.
How many children should be invited? The general rule is the age of the child plus one more.
Invitations should give child's name, age, place, time and phone number or email address to RSVP. For a preschooler, choose a time that doesn't interfere with naptime. Two hours is a good length of time for the children to have fun but not get overtired. When parents respond to the invitation, ask about allergies or dietary issues. Also, for children under five, ask care providers to stay to help if the child feels overwhelmed.
Ideas for a theme of Teddy Bear or Stuffed Animal Picnic are economical and simple to do. Ask each guest to bring a teddy bear. Have comfy pillows laid out in a circle with a new teddy bear or stuffed animal for each guest. In the middle have an assortment of clothing for the stuffed toys. The guests can dress up the toys and get ready for the picnic.
Along a Teddy bear theme there are teddy graham cookies, gummy bears, and a teddy bear shaped cake. When the guests leave, they can take the new bear and a small bag of treats.
A Bug party could include invitations with a picture of a bee on the front. One activity is to have a bug hunt with rubber bugs hidden in the garden, patio or apartment. A homemade ladybug cake will be fun. Also, cupcakes with gummy worms might appeal to young boys.
Some ideas for goody bags are arranging clean plastic peanut butter or jam jars and letting the children decorate them with large, easy to peel stickers. Also, have paper lunch bags to be decorated with washable markers and easy to peel stickers. Ensure there are enough supplies for everyone. Some things to put in the bags are bite size crackers, a two inch ball, plastic bracelets, chunky crayons, sidewalk chalk or a small bottle of bubbles.
After all the presents are opened, thank each guest for coming. If you are not able to thank people in person, writing an email or even sending a text is a gracious touch.
Planning a birthday party for a preschooler takes time but can be very rewarding. Enjoy this important celebration!