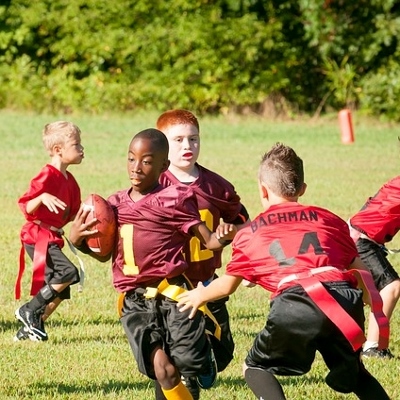 Children love being part of a team.  It is exciting to play a game to win, especially with cheering fans looking on.  While there will always be a slight chance of injury if a child takes part in team sports, what he or she gains is worth the risk.  A few of the many advantages include learning about teamwork, learning patience, and learning to trust others.
Being an effective team player takes practice. One must learn how to be an asset and not a liability. Read this post to learn how to help your elementary aged child excel at team sports.
1.  It doesn't matter if you win or lose, it's how you play the game!
Help your child love being part of a team by stressing that winning isn't everything. What matters most is skill development, as well as having fun.  At this age, a parent shouldn't be too hard on a child for making mistakes during the game.  After all, one strike out or missed goal usually does not decide the victory.  If a parent focuses too much on winning, then a child will NOT want to make mistakes; therefore, he or she will most likely NOT want to play the sport anymore.
2. Being a good sport shows true character.
No one likes a sore loser.  Teach your child not to throw the bat, not to stomp off the soccer field, and not to bully opposing players.  Instead, show your child it is more important to act with grace and dignity on the field.  By supporting his or her teammates – and even the other team when one loses – a true sports hero will be in the making.
3. Knowing the rules of the game helps a child understand what is expected of him or her.
Referees, umpires, and even line judges often talk about the need for players to understand the rules of the game.  While many team sports may seem to have straightforward rules, there are many that are complicated. Assist your child with learning the rules of his or her sport.  This helps one develop an understanding of a game, as well as the concept of strategy.
4. Practicing off the field will help to improve skills.
In order for a child to excel at sports, he or she must practice the skills required in the game.  A young man will probably not hit a home run in the game if he refuses to take part in batting practice, or a young woman will not be able to run during the soccer game if she doesn't run during practice.  It seems like a no brainer; however, children need to be taught that they will only be an effective player if they practice…practice…and practice some more.
No one is born knowing how to be a team player. Every person needs to be coached and supported on his or her journey to becoming an athlete.  As a parent, you can assist your child to be the best he can be by following the tips listed above.