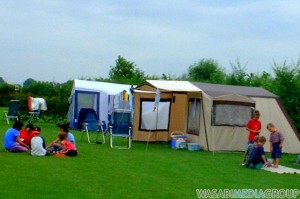 The success of a camping trip depends in large part on the camping site you choose, especially when you have little ones in tow. It is possible to find a great location if you take your time. The good news is that more and more camping sites are trying to make the whole experience more enjoyable for kids. Here are a few tips on how to find the best campsite for you and your family.
Choose the Right Destination
Only seasoned campers/backpackers should go for an all-out experience in the wild. Make sure that you go with a maintained camping site to start with. Also, try to pick a spot relatively close to your home base if that's your first trip. You don't want to deal with tired children once you get to your site. Choosing a spot close to home will allow you to have enough time to set up camp beforehand. Night travel can be very unpredictable and mess with your plans.
The spot you choose should be fairly close to the wilderness as well. Sure, a managed site is nice, but there is no point camping next to the highway if you want the full experience. Make sure you pick a destination that combines both. And be prepared, if you think you're going to do some hiking, go to a site like Woodburyoutfitters.com and get the proper equipment for the whole family to make sure that they enjoy the trip.
Have Clear Expectations
Know exactly what you want to get into before you leave. Do you want a somewhat more rustic site or something closer to a resort? While glamping is all the rage right now, some people would prefer a more authentic experience. Make sure that you visit public and private spots as well. National reserves also offer great deals on average and a good mix of nature and wilderness. If you want to get into water sports, pick a spot with a swimmable lake nearby and find out if it is supervised or not if you want added security. You should also check if they offer boat and jet ski rentals as too.
Know the Logistics
Everything is in the details, and knowing the exact logistics of the spot you're going to choose is essential. How many showers are there on the campsite? Will you be getting your water from one source or will you have access to running water? How close exactly are the bathrooms from where you'll be camping? All these questions might seem trivial at first, but they're essential, especially if you're travelling with little ones, you have to have a clear mapping of what the site will look like to the last detail if you want to avoid unpleasant surprises.
Having a good time is all about being well prepared. If you follow the tips in this article, you should be able to find a great camping site for you and your family in no time.
Brought to you by our friend, Carol.