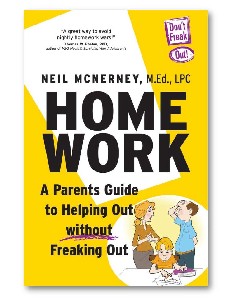 Homework: A Parents Guide to Helping Out without Freaking Out by Neil McNerney is exactly what the title implies. The book is structured to act as a resource manual for parents dealing with homework anxiety.
Homework is not a glorious work of prose. If you are looking for the next Shakespeare, look elsewhere. McNerney could benefit from a co-writer or at the very least a good editor. The first typo pops up on page 8 of the introduction and they continue to appear with regularity throughout the book.
It is obviously not McNerney's intent, however, to dazzle us with his lyrical prose. His clear and stated intention is to provide a useful tool in our parenting toolbox for dealing with the stress and anxiety that often surrounds homework — for both student and parent. The writing style is friendly and almost conversational. The author shows a tremendous willingness to share his personal failures as well as the successes of his parenting journey.
The format is simple and reader-friendly. Each chapter concludes with a brief summary and an exercise for the parent to hone the skills learned in the chapter. There are even references to an online resource for further study or additional exercises. The structure is extremely well suited for the material and takes the chore out of learning.
If you are a parent struggling with homework-related stress this book is for you. Even if homework is not a particular source of strife in your home, there are many lessons to be learned that will be helpful to any parent. Homework is not applicable only to the the titular subject. McNerney provides insights and tools to help parents be leaders to their children, that can be generalized to many other facets of parenting.  At $12.95, Homework is worth picking up for any parent looking to be more of a leader to their children.
(Editor's note: Our reviewer received a complimentary copy of Homework: A Parents Guide to Helping Out without Freaking Out, but the opinion reflected in this article is solely his.)