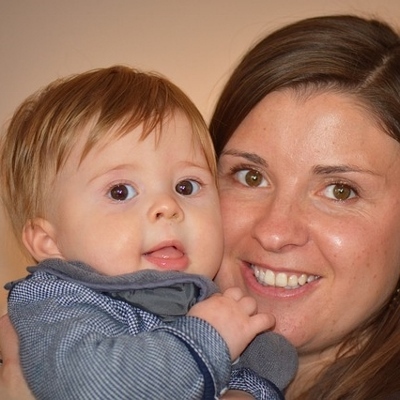 The knowledge of 'Kitchen Art' can be a valuable tool for parents. Art does not have to be difficult or expensive to be fun. Your pantry is filled with ingredients that can be mixed into paints and clays. These are the best art mediums for babies and toddlers as they are non-toxic.
Art is a natural expression for children; they love all aspects of it. It's interesting for parents to watch their youngsters use basics like crayons and play dough for the very first time. Parents need to understand that the process for children is very important. Very often parents are concerned about the end product and we have to remind ourselves that for babies and toddlers, it's the joy of the experience and the process that we have to focus on. Therefore, we have to give our children a lot of opportunity to have art, but it doesn't always have to have an end product.
Play dough has been around children for decades. Homemade play dough is a fun introduction to cooking. Toddlers enjoy seeing the dough made as well as playing with it. This play dough is such a great molding material that can be stored in containers for long spans of time. There are many other variations of dough that can be made at home, some for molding and others to bake and paint. Make a point to check into numerous dough recipes in art books at the library or bookstore. Here are a few to get you started.
Play Dough – Cooked Version
1-Cup flour
1-tablespoon cream of tartar
1-Cup water
1 Cup salt
Color with food coloring, Jello or Kool-aid powders (optional)
Mix and cook these ingredients in a pot on LOW until a ball forms. Take the clay out and knead it until pliable. Store in an airtight container.
Play Dough – Non-cooked version
2-cups flour
1-sup salt
1-cup water
1-tablespoon cooking oil
Food Color (optional)
Mix the above ingredients. Knead to work in the color and remove the bumps. Store this in an airtight container when not used.
Art should be sensual; see the brilliance, feel the texture and smell the aroma. Yes, smell! Did you ever think of adding cooking extracts to the homemade play dough and paints? Try adding just a few drops of lemon, orange, peppermint or vanilla to your next mixture. It's like having aromatherapy while you're creating art in your cozy kitchen.
What about other art mediums? Here are a couple ideas to try:
Jello Painting
Jello (any flavor)
Water
Bowl for mixing
Paper
Paintbrushes
Mix small amounts of the Jello with warm water until it turns slushy. Use this as finger paint or brush it on the paper like shiny watercolors. You can even sprinkle dry Jello onto paper and paint with an ice cube. The combination between the dry powder and the moisture of the ice will make a beautiful painting and teach a lesson of "cause and effect."
And don't forget about coloring with big Rainbow Crayons.
This is only the beginning of art exploration for your young budding artists.