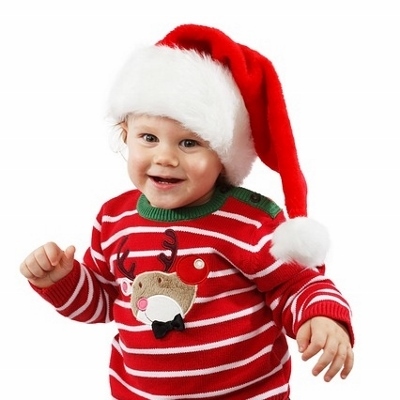 The holiday season is upon us and we are busy decorating the house and getting into the spirit. Please, don't forget the babies and toddlers – they want to feel the joy too! Here are some tips to make your youngest of children happy during the holidays.
First, let's think of safety. Babies and toddlers are curious beings. Thus, when you put up a Christmas tree or set out the menorah, they can't wait to head over to these new objects to touch and taste. Think about how you can childproof your home during the holiday season. The first year I put up a Christmas tree, I had issues. My baby would crawl to the tree and pull on the branches hoping to grab an ornament. I had to find a way to put the tree in confinement. Asking other mothers for tips, we came up with putting the flexible baby gate around the tree, buying a smaller tree for a tall tabletop display, and one mom even put her tree inside a playpen.
Make sure to shy away from glass ornaments for safety and things that are tiny that could become a chocking hazard. Opt for unbreakable baubles of plastic or wood. Keep lit candles out of reach and did you know that poinsettia and holly plants are poisonous? Keep little fingers and mouths away from these holiday plants.
When you craft with the older children or friends, give your baby/toddler some colorful paper or gift-wrap to explore. Young children love to tear paper and you can take these scraps and glue them on a sheet of construction paper for your baby's contribution to decorating. Talk to your baby about what she is doing. "That's a pretty piece of red paper you are tearing." Channel your child's creativity by making a collage together from all the pretty torn papers. Make sure to write your baby's name and date on the collage to save for future memories.
Ribbons can be sensory. With older babies (six months and older), tie a brightly colored ribbon loosely around his wrist or ankle where he can easily see it. Talk to your child about the color and how the ribbon moves when he does.
Toddlers can be involved with making a holiday book that moves. Cut out some holiday pictures from magazines or old cards. Hand-on-hand, help your youngster glue these pictures onto a cylinder, such as an oatmeal, potato chip, or baby snack canister. After you finish gluing on all the pictures, cover it with a clear self-adhesive paper. You can play with your little learner by rolling the "book" back and forth and then asking her to help you find the special pictures. Ask, "Where is the dreidel?" or "Can you find Santa?"
And if you are knee-deep into wrapping packages give your kiddo a few large pieces of rolled tape (under your supervision). You will be surprised how this sticky substance will amuse your child for the longest time. Regular tape will do, but colored or patterned holiday tape is a winner!