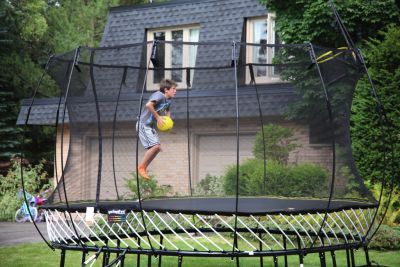 Trampolines have adorned America's backyards for years, providing an enjoyable source of exercise as well as entertainment for people of all ages. At the same time however, this equipment has also been the target of many safety concerns among both parents and doctors alike. Trampoline related injuries were reported to have been the source of a staggering one million ER visits between 2002 and 2011. Despite these risks though, many families have continued to enjoy the use of their trampoline without serious incident. Thankfully, with advances in design over the last half decade, coupled with technological developments allowing for jumpers to have an even more interactive experience, a new generation of trampolines is emerging onto the market – trampolines that are decidedly sturdier, smarter and safer.
It goes without saying that parent supervision is key to an injury free trampoline experience, but there are other precautions that should be taken before jumpers become airborne. The use of safety nets has become an industry standard, and foam padding is used to prevent jumpers from coming into direct contact with the metal springs or frame. Unfortunately, nets are not always stable, and the padding that covers the frame can easily shift while jumping, re-introducing the hazards it was originally intended to prevent. According to a recent study from the American Academy of Pediatrics (AAP), contact with the frame and/or springs is responsible for about 20% of all trampoline related injuries. Though the AAP has long discouraged backyard trampoline use, this seems to be largely based on findings related to the classic metal spring trampoline – accompanied by some sort of faulty safety enclosure, and improper or unsafe use.
The most reliable way to stop these injuries is to choose a trampoline that uses flexible composite rods set below the jumping surface which eliminate the chances of contact with the jumper during use. Additionally, the safety net should be reinforced by the same type of flexible rods, ensuring that a jumper can be safely redirected to the mat (or jumping surface) – preventing falls to the ground, while also absorbing the energy of the bouncer. To be sure, finding trampoline manufacturers who arerecognized by the industrysuch the recipients of The US Family Choice Award can help in the searching process as these awards are only given to companies that guarantee high standards and safety measures are kept. One company that checks off all three of these boxes is Springfree Trampoline.
While there is no doubt that trampolines can be a great source of effective physical exercise (visit Springfree Trampoline USA to see a full list of the benefits), it can be difficult to convince kids to get outdoors. These days, everyone is connected to some form of electronic device and it's easy to fall into a sedentary entertainment lifestyle. How can the two be reconciled, 'bounce' off each other so to speak? Applications like tgoma make Springfree the world's first smart trampoline, harnessing the natural passion children have for interactive gaming and competition, taking it outside and making it active. Adults and kids alike can track their activity, set goals and compete with other jumpers in and around their own backyards or even across the world. There is even a game called Math Hopper, introducing mathematics to young kids as they play.
Trampolines may still be a source of trepidation for many parents, but it is undeniable that current designs and safety measures have come a long way. By choosing a reputable and innovative manufacturer who makes safety a top priority, the entire family can absolutely get jumping without having to worry about any unwanted accidents or painful tumbles, making injuries or worse, trampoline-related trips to the ER, a much smaller likelihood.
Brought to you by our friends at springfreetrampoline.com.