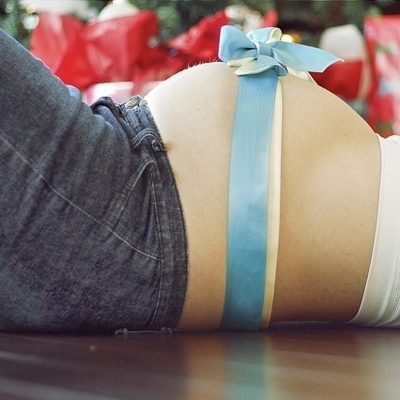 The holidays can be a wonderful time to be pregnant and you'll want to ensure you're healthy, prepared and having fun throughout the festivities. In order for you and your baby to stay healthy, you'll want to avoid packing on too many unnecessary pounds when it comes to eating and drinking. You'll also want to avoid drinking alcohol because it can permanently damage your baby. Try a glass of orange or cranberry juice instead and enjoy the health benefits that come along with Vitamin C's ability to fortify your immune system.
You should avoid drinking eggnog because even with no alcohol because eggnog is oftentimes made from raw, unpasteurized eggs, which can cause salmonella poisoning and pregnancy complications, including serious and even life-threatening problems for you and your growing baby. If you must drink eggnog, make sure it's pasteurized and contains no alcohol.
Avoid soft cheeses like feta, blue, Camembert and Brie at holiday buffets. While soft cheeses are tasty, they're often made from raw, unpasteurized milk that may contain listeria bacteria. Listeria can cause a miscarriage, premature delivery or a stillbirth. If you choose to eat soft cheese, be sure to check the packaging and look for the word "pasteurized." Alternatively, choose hard cheeses like cheddar, Gouda, Jarlsberg Swiss and Parmesan instead of soft cheeses.
Leftovers and refrigerated foods that have been sitting outside the fridge for a while (for instance, holiday spreads) are another source of problems when you're pregnant and it's the holiday season. Any foods that require refrigeration that have been left out at room temperature for two or more hours are likely to be infected with bacteria that can harm your baby, so try to avoid those types of foods, especially holiday spreads.
Under the best of circumstances, it's easy to become overwhelmed with buying and wrapping gifts, cooking, cleaning, planning, and shopping, so don't be afraid to ask for help from your husband, children, siblings, parents and friends. When they have something to do to help you, they'll feel more involved with you and your pregnancy.
You will want to find out if your health care practitioner will be on vacation or if her office will be closed. You'll want to establish a backup plan in case you need to see an ob/gyn and yours isn't available. Be sure to get a referral to an oby/gyn who will be in town throughout the holidays and be sure you have a copy of your medical information so that the alternate practitioner can provide excellent health care services.
If you are planning on traveling during the holidays, see if your health care network has ob/gyns at the destination(s) you're traveling to and ask your practitioner if she can recommend an M.D. to see in the event something happens during your vacation. Bring a folder with your medical information and remember to pack stretch mark cream, pregnancy vitamins and medications, paracetamol, sunscreen, and flat shoes so that your feet are comfortable if they start to swell.