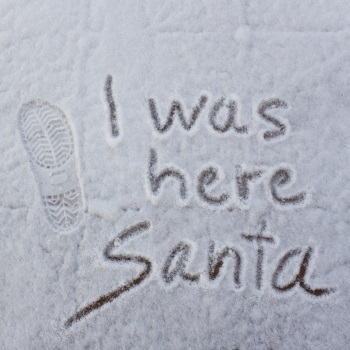 Has your child written a letter to Santa yet? Yes, it is that time of year when everyone rushes around looking for the perfect gift, attends school concerts and plans the family dinner on top of all the other tasks in the day. How can there be time to help your child keep up with reading?
For children age five to eight, learning to read is an important goal in school. Learning letter sounds, how the sounds fit together to form words, and how those words combine to make sentences is a huge challenge. December is a perfect time to encourage reading in a variety of ways using the theme of Christmas and celebration.
Activities leading up to Christmas include writing a letter to Santa. In Canada, letters addressed to "Santa Claus, North Pole, H0H 0H0 Canada" will be answered. Make sure you include a return address, but no postage is required.
Another activity is to send a wish list to Grandma, Great-Grandma, aunts, Mom, Dad, and siblings. The best way to get what you want is to ask. A handwritten note is fine if the person lives near but e-mail works well too. Younger children can get help from older children.
Sending Christmas cards has declined recently, but people still enjoy receiving them. A child can hand out a card to their teacher, classmates, daycare workers and daily helpers, including crossing guards or neighbors. People who help your child like to know they are appreciated. When cards arrive from relatives and friends who live far away, help your child to read the message and note who has sent it.
On December 24 to 26th, you could encourage older relatives to read to your child. This is the perfect time to catch up on classics like 'Twas the Night Before Christmas, How the Grinch Stole Christmas and a tale about the nativity. The relative can share a love of books and the child will treasure this memory for years to come. Also, participating in school concerts, singing carols and attending a place of worship reinforce the importance of tradition and give the child an opportunity to practice reading.
After the chaos of opening presents and having the family dinner has subsided, take the time to share a new book with your child. For younger children, it is important to talk about the pictures. Seven- and eight-year-olds will benefit from talking about the characters and what is going to happen next. . When a parent or care provider is seen reading, the child is more likely to model the behavior and develop appropriate reading skills.
This year, when your child returns to school and is asked, "What did Santa bring you for Christmas?" the answer can be, "A book, do you want to hear about it?"