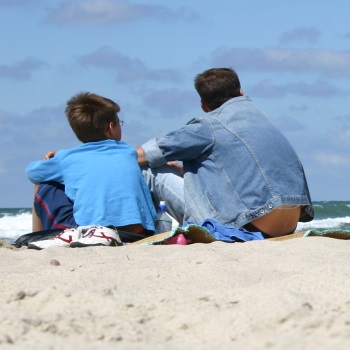 By the time children hit the tween years, they begin to value social relationships more than when they were little. Â No longer is mom or dad the most important influence in their lives. Â Instead, friends become their preferred companions.
At least that's what many parents of tweens believe to be the truth. Â 
While it is true that tweens expand their circle of friends at this time, and they do spend more time with friends, it is also true that parents can (and do) remain an integral part of their tween's life.
Healthy Limits
Children may beg to take part in every social opportunity that comes along. Â They will be invited to the movies, the mall, birthday parties, school dances, sporting events, concerts, festivals, fairs … and more. Â It may seem like it's a good idea to avoid a meltdown by allowing a tween free rein, Â yet setting reasonable boundaries should be paramount.
It will take inner strength to set limits, as children this age many times act like they want to rule their own lives. They might even say, those dreaded words, "I hate you," if you do not allow them to attend all events; however, don't be fooled. Â Deep down, tweens feel comforted by having boundaries. Â This is because having limits placed on them by mom and dad translates into "I love and care about you."
Keeping Traditions Alive
In addition to having reasonable boundaries, tweens also benefit from participating in family traditions. Â These activities do not have to be anything elaborate. Â Some families have regular game nights. Â Other families attend a house of worship together each Sunday. Â Even a weekly trip to a favorite restaurant counts. Â Don't let these traditions fade when a child begins to rebel against them. The traditions can be modified, of course, but the goal should be to spend time together doing things that the entire family enjoys. Â Simply being a family on a regular basis will keep parents and tweens close.
Be Fun (Not a Fuddy Duddy)
As already alluded to, tweens enjoy a myriad of activities with friends; therefore, if one wishes to remain close to his or her tween, then sharing in the fun is essential.  That doesn't mean that a parent needs to take up skateboarding.  It does mean that planning fun (one on one) outings with your tween should be a priority.  For instance, I spent quite a bit of time at the local YMCA with my daughter when she was a tween.  The Y provided a place for us to strengthen our bond while running, swimming, playing basketball, and laughing.  Ask  your tween what fun activity he would like to do with you, then go for it!
Parents Will Always be Important
Just because your tween has a newly active social life, doesn't mean she should begin directing her own life. Â On the contrary, she still needs you to set limits, to keep family traditions alive, and to be a fun (and loving) companion. Â If you do these three things, you will most likely always be one of your child's best friends.