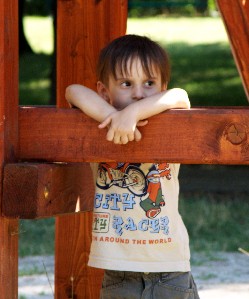 Preschoolers have a playful nature. They run, jump, and skip as they explore the world around them. Sometimes a parent of such a child wonders if his or her ball of energy will ever settle down! With all this movement comes a risk a parent may not have thought about – falls.
The Home Safety Council, a non-profit national organization dedicated to preventing home injuries, proclaims "children are hurt more from falls in the home than any other kind of home accident." They also state that "falls cause more than 3 million childhood injuries every year."
When my oldest was a preschooler, he experienced an especially nasty fall in our garage. I'll never forget the bulging "goose egg" on his forehead, and the anxious hours I spent watching for signs of a concussion. What happened to him happens to many preschoolers – a fall occurring when walking or running. Other categories of falls in preschoolers can include falls from heights and falls while doing activities like jumping on trampolines or while on bikes.
If you really think about potential fall hazards and preschoolers, I'm sure you will come up with quite a list. Here are just a few places where children fall:
*Down Stairs/Steps
*Out of Beds
*Off Playground Equipment
*Out of Grocery Carts
*Down Bleachers
However, there are fall hazards that many do not think about, including falls from balconies or out of windows. You may or may not remember that in 1991 musician Eric Clapton's 4-year-old son fell 53 stories out of a window in New York City. In this heartbreaking event, the cleaning person had left the window open to air out a room, and in a split second this lively child was gone.
So what can you do to prevent your preschooler from becoming injured in a fall? Educate yourself and others who care for your child about the places children fall and the things that can make a child fall. Be mindful of fall hazards in your own home, as well as in the places you travel.
The Home Safety Council has a great web page to assist you in your efforts. Check it out at this link. On their site they have tons of valuable information on how to keep your child safe. Here is an example of one of their tips:
"Acrylic glass sheets such as Plexiglas are recommended for use on indoor balconies, lofts and landings. The material does not shatter and is flexible enough so it curves around a banister and can be easily trimmed to any length with scissors. Attach acrylic glass with cable ties and screws."
Conclusion
Statistics show that children under 5 (and the elderly) are most at risk for fall injuries. This can result in injuries such as broken bones, concussions, puncture wounds, abrasions, and even death. By educating yourself about fall hazards in and around your home, and at the places you frequent with your preschooler, you can make sure your child stays safe and injury-free.