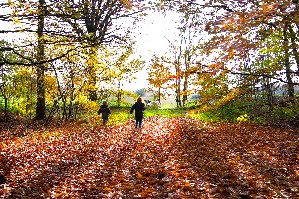 Fall offers lots of opportunities to bond with your preschooler while having both an enjoyable and educational adventure. From apple orchards, to local museums, there's plenty to do – just you two! Don't underestimate the value of one-on-one time with your child; he or she will appreciate having your full attention.
Apple orchards provide plenty of opportunities for fun. Pick apples with your child, while also talking about how the fruit takes all summer to mature, and that it begins its journey as a beautiful apple blossom. Then, explore the ways in which we eat apples, from right off the tree to baked in apple pies or squeezed to make fresh cider. Some apple orchards have wagon rides, pony rides, petting zoos, and even corn mazes.
Before Halloween, you should also trek to a pumpkin patch. Once there, your child can either go into the field to choose the pumpkin he or she likes, or find one that's already picked. Pumpkin patches usually feature many of the same activities as apple orchards, but some go as far as to offer haunted hay rides. (Use your discretion to assess whether your child would enjoy this feature or not). Finish the day with pumpkin carving then wash the seeds, explaining how they can either be cooked or stored to grow more pumpkins next year.
Besides these two outdoor activities, make sure to go on a nature hike with your child to appreciate the changing colors of the leaves. Relate that the trees do not die over winter; they just rest in anticipation for next spring. Encourage your little one to gather especially vivid leaves, and discuss what kind of tree they come from. If you don't know, look them up on the Internet together when you return home. To remember the day, press the leaves between two pieces of waxed paper then iron them to seal the paper (you handle the iron, of course).
Another fun thing to do with your preschooler in the fall is attend a football game at your local high school or college. If you have a relative that plays on the team, all the better! Dress in school colors, and sip on hot chocolate to keep warm. If your team loses, you may choose to promote the idea that "it doesn't matter if you win; it's how you play the game," and if they win, bask in the glory!
Finally, if you have a rainy day to fill, visit a local children's museum. For example, southern Wisconsin has the perfect spot for less-than-perfect fall days, the Children's Museum of Madison. Special hands-on exhibits especially appeal to preschoolers. The best part; these types of museums are fun for all ages, even parents.
Fall offers great options to help you seize opportunities to bond with your child. One-on-one time, no matter if it's spent at the pumpkin patch or at the football field, gives you both the chance to enjoy each other's company.