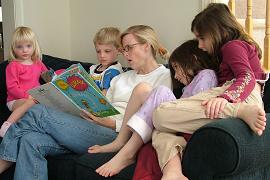 Excitement is building all across the country. Books, crafts, food, and fun! What am I talking about? Children's summer reading programs at a public library near you. All three of my children enjoyed participating in our local library's summer reading program. They read books about pirates, space, magic, and zoo animals. In fact, they liked going to these library programs so much, they continue to make regular visits to the library today as teens.
Just because the school year is ending doesn't mean that children should stop learning. I think most parents agree that although they love to have their children home in the summer, the kids still need something to occupy their time. A summer reading program, which promotes learning, provides entertainment as well.
The benefits of summer reading programs are many. First, these programs promote regular reading. This helps a child to continue to build his or her vocabulary, as well as to learn more about the world. Second, these programs show children that learning need not only take place at school. In essence, learning is an active process which can happen in any location. Third, reading programs promote family time, as parents are many times asked to read with their children. Also, many times parents will attend summer reading events with the child. I have many great memories of these events, including a show by a singing cowboy! Finally, summer reading programs are usually free of charge. This fact eases the financial burden on a family, especially if there is more than one child involved.
Sample Summer Reading Programs
Chicago – Book Beats – June 13 – Aug. 6
"Celebrate reading and music. Picture book readers and pre-readers who complete 25 pictures books will earn a Very Important Reader's T-shirt. Children who read chapter books will earn a T-shirt when they complete 10 chapter books.Weekly book raffles, author visits, performers and presenters are just some of the activities that are featured throughout the summer in this drop-in program that helps motivate kids to read for fun."

Miami -Dade – Make a Splash, Read – June 12 – July 24
"Children and teens who read, or who are read to, for two or more hours each week, will qualify for a chance to win one of the grand prizes, which include a VIP visit to Miami Dolphins training camp, official Miami Dolphins memorabilia, a Miami Seaquarium Dolphin encounter, iPods, Netbook computers, Nintendo DS with games, an acoustic guitar, a Laser Quest birthday party for 10, Baby Einstein playsets, Moon Sand early literacy kits, Kodak playsport cameras, watercolor painting easel sets, youth skimboard/snorkel sets, youth board game collection, a Barnes & Noble gift certificate, and a Toys "R" Us gift certificate." (Miami – Dade library web site).
Summer reading programs are not only offered in big cities. Libraries of all sizes all across the county offer fun and exciting programming. See what your local library has to offer this summer; your child will thank you!